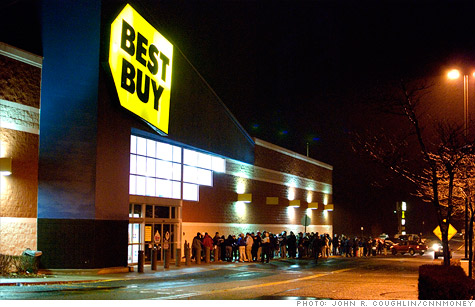 NEW YORK (CNNMoney) -- Not to be outdone by Target or Sears, Best Buy said it will open its doors nationwide at midnight Thanksgiving to get a jump start on Black Friday electronics' sales.
Best Buy (BBY, Fortune 500) is the latest retailer to announce it will open at the final stroke of the holiday, rather than the crack of dawn a few hours later. Like Target (TGT, Fortune 500), this marks its earliest opening ever.
"At Best Buy, we're focused on creating an unparalleled shopping experience for our customers," Barry Judge, Best Buy's executive vice president and chief marketing officer said in a statement. "Black Friday is just the beginning."
The electronics retailer said it will host movie events in some stores starting at 9 p.m. and fans on Facebook will qualify for daily e-gift card giveaways during the holiday shopping season.
Best Buy also announced free standard shipping on all BestBuy.com purchases with no minimum from now until Dec. 27, and price matching on all products advertised for a lower price elsewhere between Nov. 13 and Dec. 24, excluding Black Friday and Cyber Monday deals.
Wal-Mart (WMT, Fortune 500) and Target recently announced similar policies.