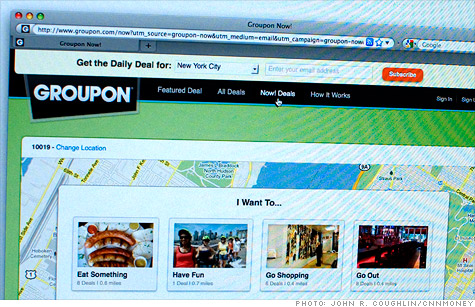 NEW YORK (CNNMoney) -- Daily deals site Groupon priced its initial public offering at $20 a share late Thursday, the last step on a rocky journey to its debut.
The move values Groupon at $13 billion, and will net the company around $700 million of much-needed working capital.
Groupon will start trading Friday on the Nasdaq, under the ticker GRPN.
Groupon's underwriters hiked its offering price at the last minute, selling the shares for more than the $16 to $18 target range they set earlier in the week. They also threw in another 5 million shares, up from the previous offering estimate of 30 million shares.
That flurry of interest from buyers was the latest twist in the roller-coaster-like IPO process that has enveloped one of the tech industry's most controversial ventures.
Since the moment Groupon filed its paperwork, it's been hit with criticism for unorthodox accounting measures, which led to several downward revisions of its financials.
Groupon's initial filing in June drew heavy scrutiny for the company's reliance on a nonstandard metric called "adjusted consolidated segment operating income." The unwieldy "ACSOI" stripped out Groupon's steep costs for marketing and acquiring new subscribers.
Under pressure from regulators, Groupon re-filed in August to instead use only standard accounting procedures. As a result, the operating profits that Groupon cited in its first filing became operating losses.
Then, in late September, Groupon revised its reported revenue to "correct for an error" -- namely, including in its revenue the cash it has to hand back to merchants for their share of the coupons Groupon sells. That effectively whacked Groupon's sales in half, to $688 million for the first half of 2011 from the $1.5 billion it claimed previously.
Tech IPOs this year: Several other online companies have gone public in 2011 -- and while they've generally done well on their first trading days, their longer term performance is mixed.
Professional networking site LinkedIn's (LNKD) shares more than doubled in its May IPO, even though the company turned only slight profits in 2010 and 2006, and has otherwise has been in the red every year since its 2003 inception. The stock is still trading well above its IPO price.
In August, LinkedIn announced it turned a profit on its first quarter as a public company. After the bell Thursday, the company reported third-quarter earnings of 6 cents a share, beating analyst estimates of breakeven.
Other tech IPOs posted gains on their first day and then fizzled. Internet radio service Pandora (P) performed well in its IPO, even though the unprofitable company had warned investors that it expected to continue losing money "through at least fiscal 2012." But shares are down more than 15% since its debut, and they're trading below the IPO price.
Shares of Demand Media (DMD), an online content creator that faced its own accounting smackdown, closed 33% higher on its first day. Those shares are now trading below $8, compared with the IPO price of $17.
Groupon's IPO could set the stage for Zynga -- the gaming company filed in June and is rumored to start trading this month -- and serve as an indicator of the overall IPO market.