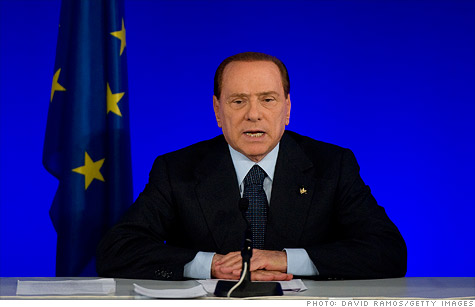 Italian Prime Minister Silvio Berlusconi is being blamed for soaring bond yields and his grip on power could be waning.
NEW YORK (CNNMoney) -- The Italian government's borrowing costs spiked on Monday, with yields on its bonds getting perilously close to the 7% mark, as faith wanes in Prime Minister Silvio Berlusconi.
The yield for 10-year Italian bonds closed at 6.66% Monday, a foreboding number, considering the nation's debt problems. Even so, yields eased from earlier highs of 6.8%, which marked the highest level since the euro was established in 1999.
The European Central Bank's bond buying program has helped keep Italian bonds from skyrocketing even higher, said Nick Stamenkovic, fixed income analyst for RIA Capital Markets in Edinburgh, Scotland.
The 7% level isn't an automatic bailout trigger but it is the level that prompted bailouts for Portugal and Ireland. Even though those countries share PIIGS status with Italy, they're tiny in comparison.
Keeping Italian bond yields under 7% is essential because unlike Greece, Italy is too big to bail out, Stamenkovic added.
Italy is the third-largest economy in Europe, behind Germany and France, and it has one of the largest bond markets in Europe.
"Italy makes Greece makes look a tea party," said Stamenkovic.
Part of the problem is Italy's staggering debt of €1.9 trillion. BGC Partners called Italy's 120% debt to GDP ratio as "disproportionate and unacceptable."
Berlusconi appears unfazed. And that could cost him a vote of confidence Tuesday.
"The problem is that with a potential political crisis looming, Berlusconi seems to be fairly relaxed and at the same time not in any hurry to step-up the pace of reforms," said Deutsche Bank analysts Jim Reid and Colin Tan, in a research note. "Unfortunately for the market, it doesn't seem that Berlusconi agrees with the need for rapid action."
Tens of thousands of protestors took to the streets of Rome over the weekend in protest of Berlusconi's reforms.
The Deutsche Bank analysts said that after the G-20 summit, Berlusconi said that "Italy does not feel the crisis" and he described the Italian bond sell-off as "a passing fashion." They also pointed to Berlusconi's comments that "the restaurants are full, the planes are fully booked and the hotel resorts are fully booked as well."
Regime change is de rigueur in Europe. Greek Prime Minister George Papandreou is in the process of resigning as part of a plan to push through that country's bailout package.
Getting rid of Berlusconi is an essential step in getting the Italian economy back on track, said Stamenkovic. He said the ECB is unlikely to continue buying Italian bonds unless the Italians overhaul their leadership.
"The last thing the ECB wants is to be seen buying Italian bonds while they're doing nothing in response," said Stamenkovic. "Berlusconi's the main stumbling block. He is clearly an obstacle to get reforms in place. If they removed him, that would clear the decks."
The very notion that Berlusconi might leave his top job and take his scandals with him was well received by European stock markets, which reversed their losses on Monday.
London's FTSE (UKX) rose 1% at the close, while the CAC40 (CAC40) in Paris and the DAX (DAX) in Frankfurt surged nearly 2.8%.
But even if Berlusconi does step down, that wouldn't necessarily fix Italy's debt problem.
"There has been a lot of speculation that a different leader would lead to a sharp retraction in Italian bond yields," said Gary Jenkins, analyst with Evolution Securities. "That might well be the case in the short term but considering the starting debt position, the economic outlook and the general lack of confidence in Italian debt it promises to be a challenging period of time for any Italian leader."