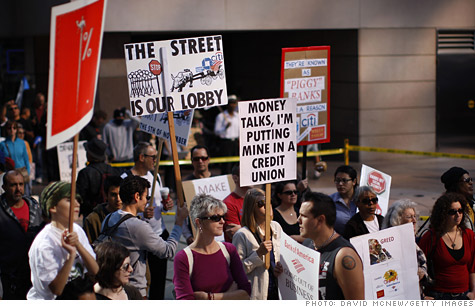 Occupy LA protesters rally in the downtown financial district before the start of a march for "Bank Transfer Day" on November 5.
NEW YORK (CNNMoney) -- More than 40,000 people joined credit unions during the "Move Your Money" and "Bank Transfer Day" movements this past Saturday, continuing the exodus of customers fed up with big banks.
The new customers were the latest in a surge of members credit unions have signed up in recent weeks, as public anger over proposed fees at Bank of America and elsewhere has boiled over, the Credit Union National Association said Tuesday
"Since Sept. 29 -- the day Bank of America announced its now-rescinded monthly $5 debit card fee -- average estimated membership increases nationally were around 20,000 new members each day, " CUNA President and CEO Bill Cheney said in a statement. "On Saturday, consumers doubled the pace. It's clear that consumers kept up their interest in credit unions."
In a previous survey, released late last week, the industry group said an estimated 650,000 consumers had joined credit unions between September 29 and the first week of November, bringing with them an estimated $4.5 billion in new savings accounts.
In addition to the new members, credit unions saw $80 million in new savings and $90 million in new loans on Saturday, the CUNA estimated based on its survey of 1,100 credit unions.
Backed by groups of consumers like MoveOn.org and the Progressive Change Campaign Committee (PCCC), "Bank Transfer Day" and similar initiatives have been designed to urge customers of the nation's biggest banks to switch to a credit union or community bank, which are known for having fewer and/or lower fees and penalties.
The PCCC said it received pledges from about 53,000 people to take their money out of major financial institutions by Saturday as part of the "Move Your Money" initiative, with just under 22,000 consumers planning to remove their money from Bank of America specifically.
Some 92.6 million Americans were members of the nation's 7,432 credit unions as of September, holding $839 billion in savings, according to the CUNA.
Meanwhile, the Independent Community Bankers of America said a poll of its 5,000 members conducted on Oct. 17 found that nearly 60% of community banks are gaining customers who are sick and tired of the big financial institutions. The association's community bank locator has seen more than 5,000 inquiries in the last few weeks -- an increase of nearly 500%.
Although Bank of America and other banks have canceled plans to introduce the new debit card fees experts in the banking industry predict more fees -- and higher existing fees -- will be popping up soon.