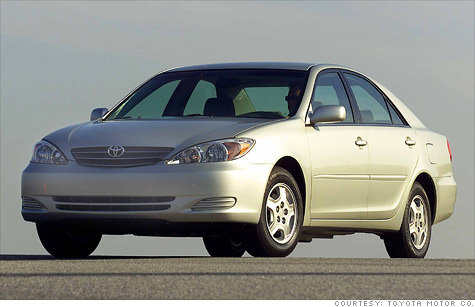 The 2005 Toyota Camry is among the cars Toyota is recalling for a power steering issue.
NEW YORK (CNNMoney) -- Toyota Motor Co. is recalling 420,000 cars in the U.S. because of a potential problem with the power steering.
A belt for the cars' power steering pump can become separated from a pulley, causing the power steering system to fail. If that happens, the car could suddenly become much harder to steer.
The cars involved are some 2004 Toyota Avalons as well as 2004 and 2005 Camrys, Highlander SUVs, Sienna Minivans, Solara convertibles, Lexus ES330 sedans and RX330 SUVs. The 2006 Lexus RX400h hybrid SUV is also included in the recall. All the affected by the recall are powered by V6 engines.
The cars and SUVs are among 550,000 Toyota is recalling worldwide for this problem.
No accidents or injuries have been reported as a result of the problem, Toyota said in an announcement.
Once Toyota has obtained enough replacement parts to fix the cars, owners will be notified to bring their vehicles to dealers for inspection and repair, if needed, at no charge.
In the meantime, Toyota has asked that owners contact their Toyota or Lexus dealers if they notice any unusual noise coming from their car's engine compartment.