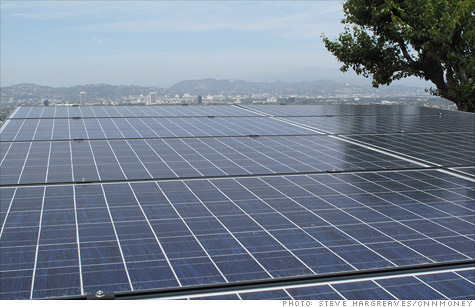 U.S. solar cell makers claim Chinese manufacturers are dumping excessively cheap products on the American market.
NEW YORK (CNNMoney) -- The U.S. Commerce Department said Wednesday that it would investigate allegations that Chinese solar cell manufacturers are illegally "dumping" their products on the American market at excessively cheap prices.
A group of American manufacturers led by SolarWorld Industries America argued in a complaint last month that Chinese firms are offering solar cells at prices well below what it costs to make and ship them thanks to subsidies from the Chinese government. The artificially low prices, the complaint claims, are pushing American manufacturers out of the industry.
"We believe the Department of Commerce investigation will show that Chinese government and Chinese solar manufacturers are -- and have been -- engaged in illegal practices that threaten to decimate a vitally needed renewable energy industry," SolarWorld president Gordon Brinser said in a statement.
"China's continued practice of scoffing at international and U.S. trade law and failing to meet requirements of the WTO, including reporting its vast array of subsidy programs, are extremely disruptive to business plans of countless employers who are dependent on Chinese imports."
The complaint calls on the government to slap stiff tariffs on Chinese solar cells to level the playing field for American producers.
Others in the industry who rely on cheap solar cells, though, fear the action could drive up prices for solar power and put American jobs at risk.
"Protectionism harms the future of solar energy in America and negatively impacts consumers, ratepayers, and over 100,000 American solar jobs," another industry group, the Coalition For Affordable Solar Energy, said in a statement. "We urge policymakers to find a resolution to this dispute that ensures the continued growth of the entire U.S. solar industry and encourages continued investment in solar energy."
The Commerce Department investigation is contingent on a determination by the U.S. International Trade Commission on whether it believes Chinese imports are indeed threatening the American industry. That ruling is expected early next month.
Assuming the investigation goes ahead, Commerce will release its preliminary findings early next year.
Part of the decision for the ITC will be to determine whether thin film solar manufacturers like First Solar (FSLR), which did not sign on to the complaint, are part of the same industry as crystalline silicon producers like SolarWorld, the Washington Research Group said in an analysis on Wednesday.
Chinese firms including Suntech (STP), Yingli (YGE) and Trina are among those targeted in the complaint.
China's Chamber of International Commerce warned the U.S. against implementing new tariffs last month, saying the move would "negatively affect both the Chinese and U.S. solar industries", Chinese state media reported last month.
Imports of Chinese solar cells were worth an estimated $1.5 billion in 2010, the U.S. Commerce Department said. SolarWorld says these imports rose more than 300 percent from 2008 to 2010.
The U.S. industry has been in the spotlight in recent weeks thanks to a scandal involving solar panel manufacturer Solyndra, which filed for bankruptcy in August despite receiving $535 million in federal loan guarantees.