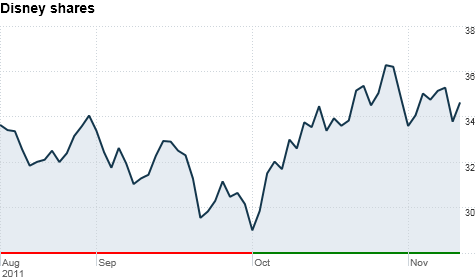 Click the chart for more info on Disney's stock.
NEW YORK (CNNMoney) -- Disneyland may the "happiest place on earth," but it likely had some competition from corporate headquarters on Thursday after the Walt Disney company reported record-setting earnings.
Disney's (DIS, Fortune 500) net income for the quarter hit $1.1 billion, a 30% increase from last year, while revenues were up 7% to $10.4 billion.
Earnings per share were 58 cents, up from 43 cents a year ago. Analysts surveyed by Thomson Reuters had predicted the company would report earnings of 54 cents a share.
The news boosted Disney shares more than 2% in after-hours trading on Thursday, after they closed at $34.64 at the end of the trading day.
For the company's 2011 fiscal year, which ended on October 1, revenues increased 7% and net income was up 21%. This growth was driven by strong performances from the company's consumer products and parks and resorts segments, as well as by cable networks including ESPN and the Disney Channel.
"We are confident the Company is well-positioned to deliver long-term value for our shareholders with our focus on quality content, compelling uses of technology and global asset growth," Disney President and CEO Robert Iger said in a statement.
Over the past five years, the company's stock has outperformed most of its media rivals, including News Corp. (NWSA, Fortune 500), CBS (CBS, Fortune 500) and Time Warner (TWX, Fortune 500), the parent company of CNNMoney.