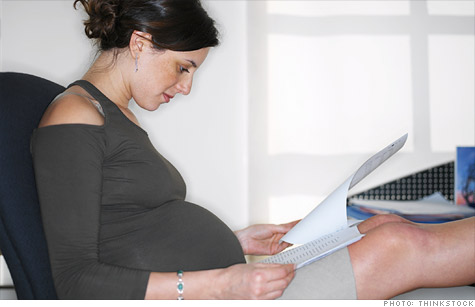 A Census Bureau study says paid maternity leave for working moms has increased, but the U.S. still lags behind other countries.
NEW YORK (CNNMoney) -- For the first time ever, a majority of working women received paid maternity leave, according to a new study. But the U.S. still has a long way to go to catch up to the rest of the industrialized world.
The U.S. Census Bureau said in a report released Thursday that 51% of working women who had their first child between 2006 and 2008 received paid leave, which can include sick days and vacation time, compared with 42% between 1996 and 2000. Those totals are up from just 37% between 1981 and 1985.
"The last three decades have seen major changes in the work patterns of expectant mothers," Lynda Laughlin, a family demographer at the Census Bureau, said in a statement. "Access to paid leave makes it possible for mothers to care for their newborns and maintain financial stability."
While the new figures represent progress, the benefits for working mothers in the U.S. still lag far behind those in other developed nations. A report earlier this year from advocacy group Human Rights Watch said that in a survey of 178 countries, only the U.S., Swaziland and Papua New Guinea didn't legally guarantee women any pay during maternity leave.
About a quarter of poverty spells in the U.S. - when income falls below what's needed for basic living expenses - begin with the birth of a child, according to a 2005 study from the National Partnership for Women and Families.
"Having paid family leave can actually help save taxpayers money, because then families at risk don't end up on long-term entitlement programs that actually cost taxpayers more," said Kristin Rowe-Finkbeiner, executive director of the family advocacy group MomsRising.
"We need both families and businesses to be able to thrive in order to have a healthy economy."
The Census Bureau study found that 82% of working women who had their first child between 2006 and 2008 were working again within one month. Young mothers and those without a high school diploma were less likely to get paid maternity leave than older and better-educated women.