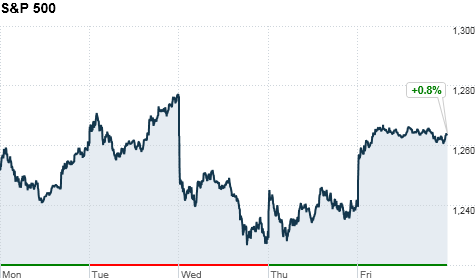 Click the chart for more stock market data.
NEW YORK (CNNMoney) -- U.S. stocks rallied Friday, advancing for a second straight session, as leaders in Italy and Greece took measures to curb the region's ongoing debt crisis.
The Dow Jones industrial average (INDU) climbed 260 points, or 2.2%, the S&P 500 (SPX) added 24 points, or 2%, and the Nasdaq (COMP) rose 54 points, or 2%. The day's gains helped the Dow finish up 1.4% and S&P 500 close up 0.9% for the week. But the Nasdaq remained in the red, slipping 0.3% for the week.
Friday's rally was sparked by high hopes that Greece and Italy are "on the right track and moving in the right direction," said Dave Hinnenkamp, CEO at KDV Wealth Management.
Greece swore in a new prime minister, Lucas Papademos, early Friday. Papademos, a former banker and European Central Bank vice president, will now move to form a new national unity government.
That government is expected to pass the controversial bailout package European leaders agreed to late last month, which had been a condition former Prime Minister George Papandreou set as part of his resignation.
That puts Greece on track to get its €8 billion installment from a separate international agreement brokered in May 2010, allowing it to pay its bills next month and avoid immediate default.
Meanwhile, Italy's senate passed a series of austerity measures demanded by Europe, paving the way for Prime Minister Silvio Berlusconi to resign over the weekend.
Earlier this week, the three-term Italian prime minister promised he would step down once Italy's economic reforms and budget get the final stamp of approval. The measures are scheduled for a vote in the lower house Saturday.
Investors are hoping that "Berlusconi's departure will usher in a technocratic government that will hopefully implement austerity measures swiftly and aggressively," said Kathy Lien, director of currency research at Global Forex Trading.
Italy shared the spotlight with Greece this week, as Italian bond yields spiked to record highs above 7%. That was the same level that required eventual bailouts for Greece, Portugal and Ireland.
Yields eased off those highs Friday, but investors remained concerned about the contagion that a deepening debt crisis in Italy could set off. Italy is the world's eighth largest economy, but it's currently struggling under a gross debt level of about €1.9 trillion.
U.S. stocks rose modestly Thursday, recovering from a steep sell-off a day earlier.
But trading will likely remain choppy until more decisive steps are taken toward solving the European debt crisis.
"The problem with this crisis is that almost every few days we get a fresh shock," said David Jones, chief market strategist at IG Markets. "I don't think by any stretch we've seen the worst of this. There's more volatility to come."
For the year, all three major indexes are higher: The Dow is up almost 5%, while the S&P 500 and Nasdaq have added less than 1%.
Economy: A better-than-expected reading on consumer sentiment also boosted stocks. The University of Michigan consumer sentiment index for November to 64.2, up from 60.9 in October and above a consensus forecast for 61.3. The reading was the highest in five months.
World markets: European stocks closed sharply higher. Britain's FTSE 100 (UKX) jumped 1.7%, the DAX (DAX) in Germany added 3% and France's CAC 40 (CAC40) rose 2.7%.
Asian markets ended up slightly. The Shanghai Composite (SHCOMP) finished just above breakeven, the Hang Seng (HSI) in Hong Kong climbed 0.9% and Japan's Nikkei (N225) edged up 0.2%.
Companies: E*Trade (ETFC) shares slumped after the company said Thursday that it is not for sale -- ending ongoing speculation that the online brokerage would be acquired. The stock was the biggest declined on the S&P 500.
Disney (DIS, Fortune 500) reported record-setting earnings after the closing bell Thursday, posting a 21% gain in net income for the 2011 fiscal year. Shares of the media giant jumped Friday, leading the gains on the Dow and S&P 500.
Shares of Nordstrom (JWN, Fortune 500) slipped after the department store chain reported an increase in quarterly earnings after the close Thursday but lowered its full-year outlook.
Shares of Nvidia (NVDA) rose after the chipmaker posted a third-quarter profit late Thursday that more than doubled from a year earlier.
Currencies and commodities: The dollar fell against the euro and Japanese yen, and the British pound.
Oil for December delivery added $1.21 to settle at $98.99 a barrel.
Gold futures for December delivery rose $25.20 to settle at $1,784.80 an ounce.
Bonds: Treasury markets were closed Friday for Veterans Day.