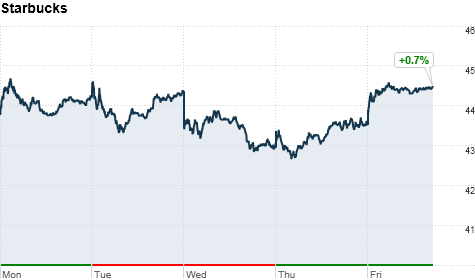 Click on the chart to track Starbucks's stock.
NEW YORK (CNNMoney) -- A lot of new developments surround Starbucks (SBUX, Fortune 500). The coffee chain acquired juice maker Evolution Fresh for $30 million as part of a larger effort to diversify its revenue stream.
Starbucks remains one of the most successful growth stories in history. Since its IPO in 1992, it shares have gained 6500%.
Another popular consumer chain that has successfully expanded its menu is McDonald's (MCD, Fortune 500). The fast-food restaurant continues to open new stores across the world, and the majority of growth is derived from Asia. Apparently investors like McDonald's strategy, as its stock hovers near an all-time high. It's up more than 7500% since its 1978 IPO.
Meanwhile, Nvidia Corporation (NVDA) reported earnings above estimates, citing fast integration of its Tegra chip in mobile handsets. Its stock advanced more than 3% on the news.
These are some of the popular themes on StockTwits Friday:
JeffCorr Starbucks buys juice company with eye on health-focused chainhttp://t.co/8htR55zU $SBUX
BrianSozzi Problem with Starbucks new juice domination plans: no caffeine in juice, broadly speaking. $SBUX #drug
herbgreenberg What people are missing on $SBUX/evolution:this isn't just juices. cut fresh veggies, really good soups, V BIG IN GROCERY PRODUCE AISLE
ShawnRobinson A little Friday humor - a blog claiming $MCD is using the McRib as an pork arb http://stks.co/15IS
jamesburrell2 I'm loving the $MCD #McRib conspiracy. No one has matched appearances yet with a hog futures chart?
firstadopter $NVDA call: Android is 1/3 of tablet market and NVDA has 2/3 market share of that
techinsidr With HTC now using nVidia 's latest "Kal-El" quad-core CPU in their next-generation smartphone, I see a lot of upside ahead for $NVDA.