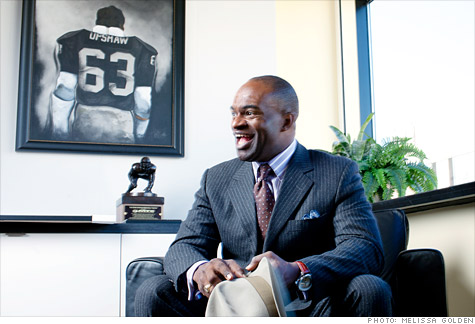 DeMaurice Smith with a portrait of his late predecessor, Eugene "Gene" Upshaw.
FORTUNE -- "My grandfather F.D. (Frederick Douglass) Smith was both a Baptist preacher and a sharecropper outside of Danville, Va. He taught me that having faith is the courage to take steps forward even when you don't know how the story is going to end. I think about the tough times I had to go through with this NFL labor deal, which was a very high-profile, high-stakes battle. Everyone was going to have an opinion. And everyone was going to second-guess.
"One of the toughest moments was during March, when we had just finished federal mediation unsuccessfully. The way our collective-bargaining agreement worked, if we didn't make a decision at that point to pursue other remedies, we would have been foreclosed from pursuing those remedies for a very long time. And it wasn't the end of the process. It was the beginning of another process for which you didn't know how the story would end. Nonetheless, I knew I had to have faith that the step we were taking was right."
DeMaurice Smith
Age: 47
Job experience: Executive director of the NFL Players Association; former white-collar criminal defense lawyer; represented Halliburton, Shell, and Ford during his career; served as counsel to Eric Holder when he was deputy attorney general in the Justice Department.
Claim to Fame: Led NFL players in the contentious five-month battle this year with NFL owners. After Smith's initial negotiations with NFL commissioner Roger Goodell went nowhere, NFLPA decertified as a union, allowing the players to file an antitrust lawsuit. An NFL lockout followed. Court battles and mediation talks led to a collective-bargaining agreement in July -- just in time to get ready for the season.