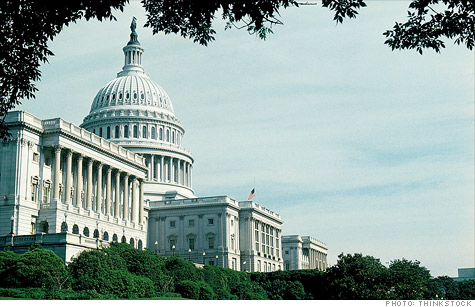 Will Congress act on the budget before key programs expire?
NEW YORK (CNNMoney) -- Debt reduction may be consuming Capitol Hill these days, but lawmakers have a number of pricey budget decisions to make before the year's out.
Unless Congress steps in, come January payments to Medicare doctors will be slashed by nearly 30%. Workers' payroll tax cut will expire. And federal unemployment benefits will end for close to 2 million jobless workers.
Should lawmakers decide to prevent all that from happening, as many would like, there's the question of how to pay for it with the current budget. The estimated price tag for all three provisions over 10 years would top $600 billion.
Payroll tax cut: A $289 billion decision
In September, President Obama proposed extending and expanding a temporary payroll tax break from last December.
While employees normally pay 6.2% on the first $106,800 of their wages into Social Security, this year they've only been paying 4.2%. That tax break, however, is set to expire by Jan. 1.
Obama proposed extending it for another year and cutting the employee share to just 3.1%. He also proposed cutting the employer's portion -- also 6.2% -- in half on the first $5 million that the company pays in wages.
The payroll tax proposals combined would mean $289 billion less in revenue, according to the Congressional Budget Office. The hit would be taken by the general revenue pool, however, not the Social Security trust fund.
The White House and many Democrats have said if Congress fails to act, that would mean a tax increase on every working American and would harm the economy.
Some Republicans have characterized the payroll tax cut as failed stimulus, but that doesn't mean the measure is dead. If it's part of a broader package they like, they may go along.
Doc fix: A $300 billion decision
Under the law, Medicare reimbursements to doctors must be reduced whenever those payments exceed a certain target. Since 2003, that target has been exceeded, but Congress has routinely put in a temporary "doc fix" to prevent the pay cuts.
If that provision is allowed to take hold, however, Medicare doctors' pay will be slashed by nearly 30% next year and by additional amounts thereafter.
Doctors, who already feel Medicare payment rates are too low, wouldn't be happy.
"Payments for Medicare physician services have fallen so far below increases in medical practice costs, that there is a 20 percent gap between Medicare payment updates and the cost of caring for seniors," Dr. Peter Carmel, president of the American Medical Association, said in a statement.
But if Congress once again chooses to prevent the scheduled pay cut next year and beyond, it would increase Medicare spending by $300 billion over the next decade, the CBO estimates.
What's not clear is whether the special Congressional debt panel -- aka the super committee -- will weigh in on this issue. If they opt to make the doc fix permanent, they will have to find a way to pay for it.
Extend unemployment insurance: A $44 billion decision
If Congress doesn't act by Dec. 31, more than 6 million jobless workers could run out of unemployment benefits next year -- with nearly 2 million of them running out in January alone, according to the National Employment Law Project.
That's because a temporary extension of federal emergency jobless benefits to help the long-term unemployed is set to expire by year end. Lawmakers first expanded benefits to cover up to 99 weeks of unemployment in 2009, and have since reauthorized that expansion five times.
It's not clear yet how much support there will be in Congress for another extension. But supporters note that failing to pass it could harm the economic recovery and make life that much harder for the unemployed.
"With economic recovery fragile and long-term unemployment an ongoing crisis for millions of Americans, we simply cannot let the federal unemployment insurance programs expire at the end of this year. It's a critical lifeline for so many workers and their families," said Christine Owens, NELP's executive director, in a statement.
Reauthorizing the extension again would cost $44 billion, according to the Congressional Budget Office.
- CNN's Ted Barrett contributed to this report