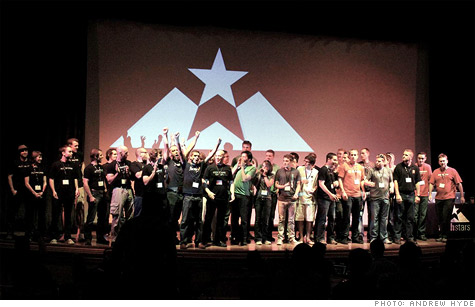 TechStars' recent graduating class in Boulder reflected tech accelerators' typical demographics: Mostly young, mostly white and mostly male.
NEW YORK (CNNMoney) -- In the tech world's startup scene, where investors gamble millions on promising ideas, accelerator programs operate as kingmakers. Get into a top one and you'll have access to seed funding, mentors and the industry's leading venture capitalists.
That's an edge that can reap rich rewards. It's also an edge that most often goes to those who fit Silicon Valley's typical demographic for entrepreneurs: Young white males. Few of the industry's incubators keep track of the racial and gender breakdown of the founders they choose to back.
Take Y Combinator, for example. Based in Mountain View, Calif., it offers a bit of launch funding, typically a few thousand dollars, in exchange for a small equity stake. But Y Combinator's real value is its network: Participants get legal aid, guidance and advice from well-connected industry veterans. The program's reputation is so strong that three of the industry's most influential investors -- Yuri Milner, Ron Conway and venture capital firm Andreessen Horowitz -- offer every participant a no-questions-asked $150,000 investment.
Y Combinator has funded around 300 startups in its six-year existence. How many were run by women, or by minority entrepreneurs? Y Combinator has no idea.
"At the end of the day, as a startup investor, I only care about a great team and product," says Alexis Ohanian, Y Combinator's East Coast representative. "You could be from Mars, though the immigration hassle would be tricky."
Another Y Combinator representative told CNNMoney: "We've never collected any stats about people's race or ethnicity. It's not a big factor when we're judging applications."
That approach resonates with many in Silicon Valley. The tech industry likes to view itself as a pure meritocracy, where the only thing that matters is the quality of a visionary's idea and the depth of their technical skills.
But critics point out that subtle -- and sometimes not so subtle -- biases come into play. Legendary investor John Doerr made a telling, offhand remark a few years ago at a venture capital conference. He observed that the "world's greatest entrepreneurs" are almost all "white, male, nerds who've dropped out of Harvard or Stanford."
"When I see that pattern coming in -- which was true of Google -- it was very easy to decide to invest," he added.
Investor Mitch Kapor, who co-founded the Lotus Development Corp. 30 years ago and now runs his own technology investment firm, says the idea of a tech meritocracy is "an aspirational statement," not a factual one.
"Not everybody gets the same breaks; not everybody gets the same opportunities," he said in an interview this summer with Soledad O'Brien for CNN's Black in America documentary The New Promised Land: Silicon Valley. "The part that is meritocratic is great, and there's a big part of it that isn't. And so, please, let's not fool ourselves and pretend otherwise in some self-congratulatory kind of way."
One of the few major accelerators to keep tabs on its demographics is 500 Startups, a San Francisco-based program run by angel investor Dave McClure. It has backed some 250 startups with a total of around 500 founders. A voluntary, opt-in poll of those founders came up with the following statistics: 80 Asian, 60 women, 15 Hispanic and nine black entrepreneurs.
"We're somewhat neutral on the topic, but we're trying to be more aggressive on it," McClure says about building a demographically diverse portfolio. He sees a business case for it: "Most likely those companies are undervalued, because there's a slight bias."
But like other talent scouts, McClure said he sees fewer qualified candidates than he would like from non-traditional backgrounds. He thinks developing visible leaders is an essential step in changing the ratios: "People tend to make more effort once they see people of similar color and gender in successful positions."
TechStars, another influential accelerator, found that it has to take an active role in diversifying its talent pool.
"We had zero women in our first program [in 2007] and subsequently focused on this a lot in 2008," said co-founder Brad Feld. "We've focused on recruiting more women into the application process pipeline, rather than having a specific gender focus in the selection process."
He estimates that women-led companies now make up around 10% of TechStars' portfolio, and that companies led by immigrants or minority entrepreneurs make up another 10%.
But diversity is often still an afterthought. "It's kind of like entrepreneurship is in a post-racial bubble, and it doesn't seem as much attention is being paid to those kinds of issues as you might expect," says Aaron Gibralter, a recent TechStars New York graduate.
The creator of a question-and-answer tool called Urtak, Gibralter is multi-racial. Or, as he describes it: "I am American -- Black, White, Native American, Christian, Jewish and Atheist."
That's why building an inclusive tech scene matters. America's population is diverse, and when entire communities are cut off from one of the economy's most vibrant sectors, both sides suffer.
"At a certain point, you max out with the same type of ideas and people," said Navarrow Wright, the chief technical officer at digital media company Interactive One and an active voice pushing for greater outreach to traditionally under-represented groups. "There's a whole slice of the demographic you're not getting disruptive ideas from."
That was the catalyst for the NewMe Accelerator, a mentoring program for aspiring entrepreneurs from underrepresented minorities. CNN followed the program's first cohort this summer. Its second cycle, which kicks off early next year, will be sponsored by Google (GOOG, Fortune 500) and hosted at Google's headquarters in Mountain View.
As Hank Williams, a veteran tech entrepreneur and one of NewMe's first participants puts it: "We are well-represented amongst doctors, relatively speaking, amongst lawyers and other professions, and very poorly-represented in technology and amongst technology entrepreneurs. ... Whatever the reason, the numbers are what they are. If we don't fix this, this is going to be a significant problem for our economy and for our social structure."

The New Promised Land: Silicon Valley, the fourth installment in CNN's Black in America series reported by Soledad O'Brien, will premiere November 13 at 8 p.m. ET. Watch the trailer on CNN.com, and check out CNNMoney's full coverage of the project.