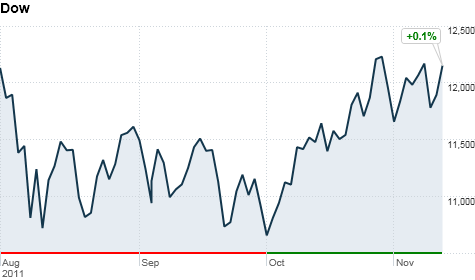 Click the chart for more stock market data.
NEW YORK (CNNMoney) -- Worries about Europe's debt crisis have been at the root of the market's volatility for months, and despite recent progress, the wild swings in stocks aren't over yet.
"There's hope that Greece and Italy are on the right track and moving in the right direction," said Dave Hinnenkamp, CEO at KDV Wealth Management. "But it'll be another week of playing with a yo-yo."
Last week, stocks made big moves up and down as investors closely watched political events unfold in Greece and Italy. The choppy week ended with a rally as investors welcomed prospects of a political shake-up in both countries.
After pushing out Greek Prime Minister George Papandreou and three-term Italian Prime Minister Silvio Berlusconi, Greece and Italy are set to start the week with new leaders to help rescue them out of their debt crises.
Former banker and European Central Bank vice president Lucas Papademos will lead Greece. And former EU commissioner Mario Monti was nominated to lead Italy.
Despite the changes, the eurozone's future remains hazy.
"Hopefully without the political pressure of appeasing their constituents, Papademos and Monti will implement their austerity measures quickly and aggressively," said Kathy Lien, director of currency research at Global Forex Trading, but warned that "Europe's debt crisis isn't over."
On Monday, investors will be watching Italian bond yields closely as Italy auctions €3 billion in five-year bonds. Last week, the 10-year Italian yield spiked to a record high above 7%, a level that subsequently required bailouts for Greece, Portugal and Ireland.
Though Italian yields have eased off the highs, they still remain above 6%, and experts say that such high borrowing costs are not sustainable.
If Italian yields don't continue to retreat, "Italy will need international financial assistance, but just where this might come from remains extremely uncertain," said Jennifer McKeown, senior European economist at Capital Economics.
Investors will also receive the first reading on third-quarter economic growth in the eurozone, as European recession worries continue to mount.
Outside of Europe, investors will continue to keep an eye on economic and earnings reports.
Retailers will be in focus, with Wal-Mart (WMT, Fortune 500), Target (TGT, Fortune 500), JC Penney (JCP, Fortune 500), Urban Outfitters (URBN), Limited Brands (LTD, Fortune 500), Abercrombie & Fitch (ANF), Gap (GPS, Fortune 500), Ross (ROST, Fortune 500) and Sears (SHLD, Fortune 500) all on deck to report.
Home improvement retails Home Depot (HD, Fortune 500) and Lowe's (LOW, Fortune 500) are also set to report, as well as No. 2 PC maker Dell (DELL, Fortune 500) and office supply chain Staples (SPLS, Fortune 500).
The government's report on retail sales in October is also due.
The results will give investors "a good look at how consumers have been behaving," and a hint of what to expect from them during the fast-approaching holiday shopping season, said Timothy Ralph, portfolio manager at Biltmore Capital.
Investors will also get October readings on inflation from the Producer Price Index and Consumer Price Index.
Regional manufacturing data for November is also due, as well as an update on the real estate market, with the release of October housing starts and building permits.