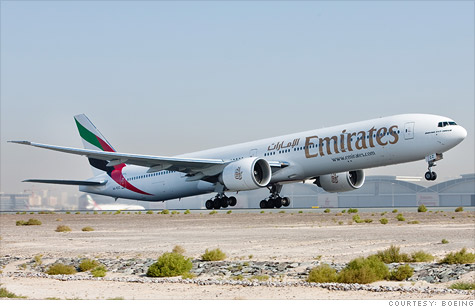 Boeing signs its biggest contract ever to supply Emirates Airlines with 50 aircraft, with options for another 20.
NEW YORK (CNNMoney) -- Boeing and Emirates Airlines have signed an $18 billion deal -- the largest deal in the aircraft manufacturer's history -- to supply the airline with 50 aircraft, with options to expand the deal even further.
U.S.-based Boeing (BA, Fortune 500) has agreed to build 50 of its 777-300ER airliners for the Dubai-based Emirates Airlines, the companies said. The agreement also contains options to supply an additional 20 aircraft, which could add $8 billion to the deal.
At $18 billion, this is already Boeing's largest deal as measured in dollars, the aircraft manufacturer said Sunday. The company also said this is a record year for the 777, with orders for this year totaling 182 so far. That breaks the prior record of 154 orders in 2005.
Emirates' fleet of 94 777s is the largest in the world, according to Boeing. The 777-300ER is designed for long-haul flights, with the "ER" standing for "extended range."
The magnitude of the deal provides a hopeful sign about the economy. Airlines in particular suffered when fuel prices spiked in 2008, and have coped by eliminating their least fuel-efficient flights and by adding fees to services that were once included in the fare, like food, check bags and pet travel.
Boeing also unveiled the 787 Dreamliner last month. After long delays in production, the Dreamliner made its first commercial flight on Oct. 27 from Tokyo to Hong Kong.
The Dreamliner is the first commercial jet to be built from light-weight composite material made from carbon fibers. United Continental Airlines (UAL, Fortune 500) is the first U.S. carrier to take delivery of the plane, which it plans to start flying next year.
United also recently launched its first biofueled flight, with a 737-800 produced by Boeing.
Emirates, which refers to itself as "the world's fastest growing airline," released its results for the first half of its fiscal year on Nov. 3, saying that it had added 10 aircraft and 3,400 staffers during that time.
Emirates now has 161 aircraft, ramping up its fleet from 60 in the last seven years.