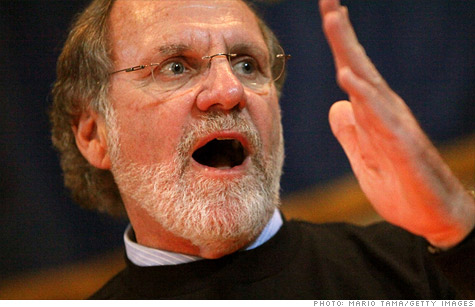 Former New Jersey Governor and MF Global CEO Jon Corzine.
NEW YORK (CNNMoney) -- MF Global can add one more item to its long list of problems: angry former employees.
On Monday, ex-MF Global staffers Todd Thielmann and Pierre-Yvan Desparois filed a class action complaint alleging that the firm did not provide the 60 days notice required under federal law before all 1,066 employees of its bankrupt brokerage unit were dismissed on Friday. (MF Global: Sorting through the debacle.)
Thielmann, a former MF Global floor broker in Chicago, and Desparois, a vice president in credit risk management in New York, are seeking the recovery of 60 days' wages and benefits for themselves as well as "all similarly situated employees," according to the complaint.
Charles Ercore, a lawyer for Thielmann and Desparois, said the abrupt firings at MF Global were a clear violation of the Worker Adjustment and Retraining Notification Act, commonly known as the "WARN Act."
"Given its deteriorating financial condition, MF Global clearly knew long before November 11, 2011 that it was going to have to close its doors and there is no reason WARN Act notices shouldn't have been given," Ercore said in a statement.
The complaint estimates that more than $25 million in damages is owed to the more than 1,000 MF Global employees who were terminated last week.
Attorneys for Natalia Sivova, a former MF Global employee in New York, filed a similar class action-style complaint on Monday.
Under the terms of the terminations that were announced Friday by the trustee overseeing the MF Global (MFGLQ) liquidation, employees are to be paid through November 15 and will have health coverage through the end of the month, but will not get severance. The terminations were effective immediately.
Kent Jarrell, a spokesman for MF Global trustee James Giddens, said in an email that Giddens had "acted appropriately in connection with the termination of employees as part of the court-mandated liquidation and wind down of MF Global Inc."
The firm, which was led by former New Jersey governor Jon Corzine until his resignation earlier this month, has been prohibited from executing trades since filing for bankruptcy protection on October 31. Federal regulators and other authorities are investigating a reported $633 million that is allegedly missing from MF Global client accounts.
The brokerage went bankrupt after revealing $6.3 billion in exposure to the sovereign debt of troubled European economies, which led to a cut in its credit ratings and trading partners demanding higher level of collateral to complete deals.
Sam Giordano, executive director of the American Bankruptcy Institute, said WARN act claims from ex-employees are a standard part of bankruptcy cases and will not be treated differently from the claims of MF Global's many other creditors.
"It's a claim piled on top of what are going to be many, many claims against the bankrupt entity," Giordano said. "There's nothing magical about the WARN act claim -- it doesn't jump the line."