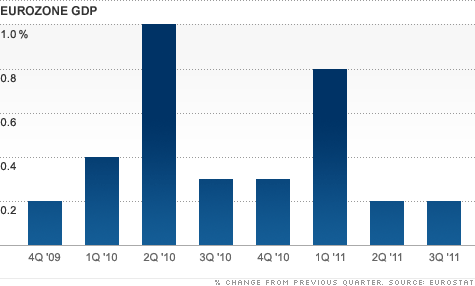 NEW YORK (CNNMoney) -- European economic growth was once again virtually nonexistent in the third quarter, further raising the risk that the continent could soon fall into a new recession.
The gross domestic product, the broadest measure of economic activity, grew at only a 0.2% quarter-over-quarter rate in the three months ending in September, matching its weak performance in the second quarter. The readings were true for both the 17 nations in the eurozone, and across all 27 nations that make up the European Union.
Economists are increasingly worried that Europe's economy will start to shrink in the face of continued uncertainty about sovereign debt, government austerity measures by some of the more troubled economies, and worries by businesses and consumers about the very future of the euro.
"It is evident that economic activity across the Eurozone has faltered substantially since the early months of 2011 in the face of major domestic and global headwinds," said Howard Archer, chief European economist for IHS Global Insights.
The eurozone's GDP was depressed despite strong readings Tuesday on growth in Germany and France, the region's two largest economies. German GDP grew a relatively strong 0.5% compared to the second quarter, driven by gains in household spending.
France's economy rebounded to 0.4% growth compared to the second quarter, when the economy declined by 0.1%.
But economists at Barclays Capital estimate that the overall reading means that Greek GDP fell by 0.4% in the most recent quarter, and that Portugal's economy shrank at a 0.4% rate. Growth rates aren't specified for every country in the eurozone, but Italy's GDP is estimated by Barclays to have declined 0.2%.
Francois Cabau, European economist for Barclays, said that given early fourth- quarter readings on employment and industrial production, it now appears certain that the overall GDP will decline in the fourth quarter, especially as the uncertainty about the sovereign debt crisis drags on.
"By December, we could see some stabilization, (but) we have to bear in mind the levels are already pretty low levels," he said.
It's not just private sector economists worried about a new European recession. Earlier this month, at the news conference following his first meeting as president of the European Central Bank, Mario Draghi said "What we are observing now is slow growth heading towards a mild recession by year end.
While fears about the U.S. economy falling into recession have started to recede in recent months, a new European recession does pose a risk to continued U.S. growth. The EU is the second largest market for U.S. goods exports, trailing only Canada.