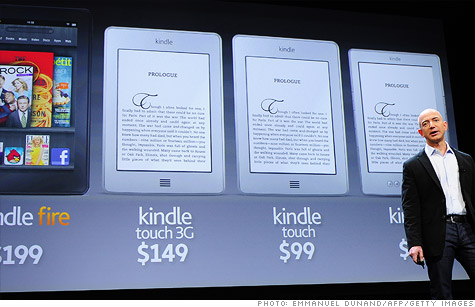 Amazon CEO Jeff Bezos unveiled the Kindle Fire -- and three other new Kindles -- in September
NEW YORK (CNNMoney) -- Amazon's Kindle Fire launched Tuesday with only six weeks left in the year, but analysts still think 5 million of the tablets could sell by the end of 2011.
Amazon (AMZN, Fortune 500) is positioning the $199 Kindle Fire as a tablet focused on media consumption: reading books and magazines as well as watching video and streaming music. It features a 7-inch display and runs on a heavily customized version of Google's (GOOG, Fortune 500) Android operating system.
Priced at less than half the $499 starting price of an Apple (AAPL, Fortune 500) iPad, the Kindle Fire aims to undercut Apple's kingpin, which has sold 28 million units since its 2010 debut -- including a record 9.3 million in its latest quarter.
Amazon and Apple are unique in that they can afford to get devices in consumers' hands on the cheap -- and then sell them digital goods and services. Tablet makers who are pure hardware companies don't have that luxury.
"Amazon has all the pieces in place to ensure a successful launch for the Fire," said Forrester analyst Sarah Rotman Epps.
She expects Amazon will sell 3 million to 5 million Kindle Fires by the end of 2011. But whether or not it's an iPad killer remains to be seen.
"Amazon as a company appeals to a wider, more diverse customer base," Rotman Epps said. "Our studies show a lot of iPad owners live within driving distance of Apple stores -- meaning they're concentrated on the coast. This could be a red state/blue state thing."
JP Morgan analyst Doug Anmuth is also bullish on the Fire. In a note to clients early Monday, he said he expects Amazon will sell 5 million Kindle Fires this quarter and 20 million in 2012.
"We believe the Fire's low $199 price point and broad distribution ... will help expand the market to consumers who previously may have been reluctant to purchase a higher-priced tablet," Anmuth wrote.
Amazon has never revealed sales figures for its Kindle line, but Anmuth forecasts that device sales and related goods will total $5 billion in 2012 and $8 billion in 2013. He upped his price target on Amazon stock to $250 from $230 based on his Kindle Fire predictions.
If Amazon can steal the tablet throne from Apple -- or even make a dent -- it will have pulled off a victory where other big players have failed.
In the most extreme example, HP (HPQ, Fortune 500) killed off its TouchPad in August after just 49 days on the market. Other rivals are hanging on, but most of their devices have flopped critically and commercially.
BlackBerry maker Research in Motion (RIMM) released its PlayBook tablet in April to harsh reviews criticizing the device's unfinished feel. A major software update is due out soon, which RIM says will fix some of version one's flaws.
Two Android-based tablets -- Samsung's Galaxy Tab and Motorola's (MMI) Xoom -- debuted at prices above the iPad's $499 price point. Their sales have disappointed.
Meanwhile, rival Barnes & Noble (BKS, Fortune 500) has made no secret about gunning for Amazon's e-book market. B&N will release its $249 Nook Tablet on Thursday.