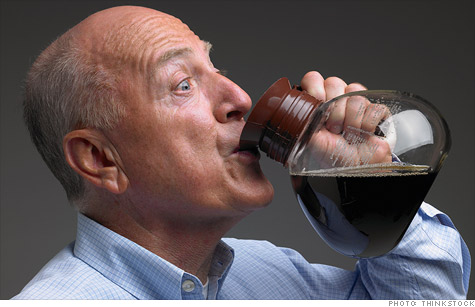 NEW YORK (CNNMoney) -- A quarter of middle-class Americans are now so pessimistic about their savings that they are planning to delay retirement until they are at least 80 years old -- two years longer than the average person is even expected to live.
It sounds depressing, but for many it's a necessity. On average, Americans have only saved a mere 7% of the retirement nest egg they were hoping to build, according to Wells Fargo's latest retirement survey that polled 1,500 middle-class Americans.
While respondents (whose ages ranged from 20 to 80) had median savings of only $25,000, their median retirement savings goal was $350,000. And 30% of people in their 60s -- right around the traditional retirement age of 65 -- that were surveyed had saved less than $25,000 for retirement.
As a result, many people aren't in a hurry to quit their day jobs.
Three-fourths of middle-class Americans expect to work throughout retirement. And this includes the 25% of Americans who say they will "need to work until at least age 80" before being able to retire comfortably.
"The fact that the vast majority of middle-class Americans expect to work well past the traditional retirement age has significant societal and economic implications," said Joe Ready, director of Wells Fargo Institutional Retirement and Trust. "Will people be physically and mentally able to work later in life? What will it mean for young people entering the workforce? And, how does our system of retirement savings need to be reformed to help reduce the savings gap?"
Because of the growing gap between actual savings and savings goals, many Americans are scrapping the idea of a concrete retirement age altogether and are instead working as long as it takes in order to save up enough to live comfortably in retirement.
Three-fourths of middle class Americans said it is more important to save a specific amount before retiring, regardless of age, while 20% said it is more important to retire at a specific age, regardless of savings.
This is a change from recent years, with Americans traditionally planning on retiring at a very specific retirement age (typically 65). But with the hits unemployment, stock market swings and plunging home prices have taken on so many Americans' savings, it's made it more difficult for people to feel optimistic about their golden years.
Changes in pension plans and proposed cuts to Social Security and Medicare benefits are also cutting into retirement optimism, Wells Fargo found.
On average, people ages 20 to 40 expect Social Security to account for only 20% of their retirement funding. And more than 25% of people in both their 20s and their 30s expect to get absolutely no income from Social Security in retirement. People in their 50s expect to get 36% of retirement funding from Social Security, and 60-year-olds anticipate Social Security to make up 46% of their retirement income.
On the bright side, a lot of people are actually choosing to work longer, the survey showed. About 45% of Americans between 25 and 39 and a quarter of people ages 40 to 59 say they will work in retirement because they want to (though 42% of Americans say they will work in a position that requires "less responsibility.")
And some people may even work well past 80 years old. Robyn Sekula, from New Albany, Ind., is 40 years old and hopes to work for the rest of her life at her job as a media consultant.
"I don't know that I will ever want to retire, unless my health dictates that I must," said Sekula. "I love what I do."