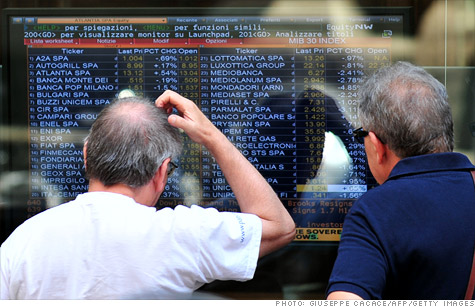 European bond yields are spreading a contagion of insecurity through the markets.
NEW YORK (CNNMoney) -- European bond yields were still making traders nervous on Thursday, despite the European Central Bank's repeated bond-buying sprees.
On Thursday, the ECB bought up Spanish and French bonds, but with lackluster results, according to Marc Chandler, analyst for Brown Brothers Harriman.
The European Central Bank has been regularly snapping up bonds to try and bring some stability to the market. But yields for most eurozone countries keep going up anyway, fueling fears on Wall Street of a European contagion.
"Today, the highlight of the European session -- which is likely to set the tone in the North American session -- are the results of this morning's French and Spanish bond auctions," wrote Chandler, in a research report. "The mediocre auction results in Spain and France have only added to stresses in the eurozone bond market."
Italy's key bond yield slid down to 6.84% at the close, after trading above 7% earlier in Thursday's session.
Spanish bond yields closed higher, at 6.48% Thursday, but managed to stay below 7% -- the level that Greek, Irish and Portuguese bond yields exceeded before those countries required bailouts from their European neighbors.
However, managing to stay below the 7% mark provides little comfort to investors who wanted the ECB's shopping spree to pull Spain into the safe zone.
"Not surprisingly, Spain saw a decline in demand and a rise in borrowing costs -- which will only add to calls to the ECB to extend its bond purchases, as the 10-year Spanish bond yields climb towards 7%," Chandler wrote.
French bond yields actually declined, managing to close at the relatively low level of 3.63%.
"The market continues to trade on the back of the ECB's daily intentions," wrote Deutsche Bank analyst Colin Tan, in a research note.
This was after the ECB bought up Italian and Spanish bonds on Wednesday, according to Nick Stamenkovich, market strategist at Ria Capital Markets in Edinburgh.
Germany maintained its status as the gold standard of stability in the European bond market. German bond yields rose a bit higher on Thursday, closing at 1.89%.
For the sake of comparison, Irish bond yields rose to close at 8.2% and Greek bond yields rose to nearly 29%.
Concern over rising bond yields was reflected in the European stock markets. London's FTSE (UKX) dropped 1.6% at the close of trading, the CAC40 (CAC40) in Paris dropped 1.8% and Frankfurt's DAX (DAX) slid 1.1%.
The banking industry paid a hefty price for global insecurity in Europe. Credit Agricole dropped 2% at the close and BNP Paribas fell 2.6%.
On Wall Street, the banking stocks took a hit. Deutsche Bank (DB) and JPMorgan Chase (JPM, Fortune 500) fell 2% in afternoon trading, and Bank of America (BAC, Fortune 500) edged down by less than 1%.