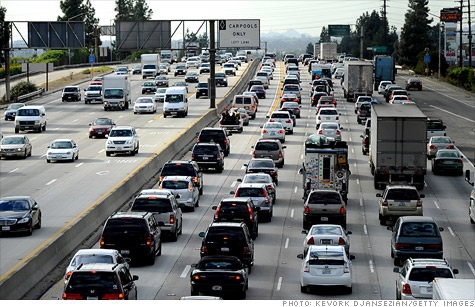 The highways will be crowded this Thanksgiving weekend, according to AAA, which projected a rise in travel.
NEW YORK (CNNMoney) -- More Americans are hitting the road this Thanksgiving holiday, despite higher gas prices, according to the motorist group AAA.
The American Automobile Association projects 42.5 million Americans will travel at least 50 miles during the Thanksgiving weekend, an increase of 4% from the 40.9 million people who traveled last year.
But gas prices are also up, making the drive more expensive this year. The nationwide average price of unleaded gasoline was $3.39 per gallon on Thursday, compared with an average of $2.88 a year ago.
The high cost of gas might be why travel was flat for Memorial Day and actually decreased, compared to last year, during Independence Day and Labor Day. But the Americans who have been staying home to save money are shrugging off their financial concerns for Turkey Day, according to AAA.
"Driving AAA's projected increase in the number of Thanksgiving travelers is pent-up demand from Americans who may have foregone holiday travel the last three years," said Bill Sutherland, vice president of AAA Travel Services, in a prepared statement.
"As consumers weigh the fear of economic uncertainty and the desire to create lasting family memories this holiday, more Americans are expected to choose family and friends over frugality.
Driving will be the dominant mode of transportation during Thanksgiving, while forecasts for air travel are mixed. AAA is expecting air travel to increase by nearly 2%, but the Air Transport Association of America is projecting a 2% decrease.
AAA defines the Thanksgiving weekend as the period from Wednesday, Nov. 23, to Sunday, Nov. 27.