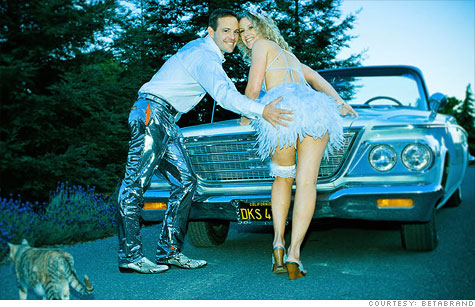 Betabrand's designs are hip, clever and irreverent. Its popular disco pants are reflective like disco balls. Fans are golfers and grooms looking to make a statement.
NEW YORK (CNNMoney) -- Psst. Your online comments or conversations could become the next fashion trend. That's if designer Chris Lindland has anything to do with it.
The CEO of San Francisco-based online retailer Betabrand aggressively mines the Internet -- social media in particular -- to find out what is on consumers' minds. And then he turns some of those topics into wearable men's fashion.
His other designs come courtesy of Lindland's own fertile imagination.
Some of his bestsellers include black sheep wool sweaters, multi-pocketed farmers' market bags and bike to work pants.
Lindland's strategy challenges the conventional rules of retailing: Consumers help to dictate fashion instead of a so-called guru spitting out trends to them.
Betabrand breaks the rules in other ways, too: It operates completely online, manufactures most of its products in the United States and in small quantities. It uses customers in its ads.
Lindland and his staff also churn out new designs with lightning speed: Right now, they average two new items weekly.
So far, the innovative business model is working. Betabrand, which launched last year, has generated more than $2 million in sales.
"Lindland has come into the fashion retail world with fresh perspective. He is disrupting the status quo," said Mark Barden, a partner with Eat Big Fish Consultancy, who calls Betabrand a "challenger" brand.
A challenger brand also has its challenges, added Barden. The company's tiny size makes it nimble and helps maintain its innovative culture. But at some point, Betabrand will have to grow.
The bigger it becomes, the more obstacles it will face.
How it works. "We look at fashion 100% through the lens of the Internet," said Lindland.
Everyday, the 39-year-old and his team of 14 co-conspirators aggressively monitor popular social media tools, like Twitter, Facebook and blogs to see what consumers are talking about.
"Any conversation can spark an idea," said Lindland. "By leveraging social media, we're creating products that we know people want as opposed to just putting out fashions and hoping they take off."
For example, Betabrand's Cornucopia bag was created after employees saw photos and monitored online complaints of people struggling with produce at farmers' markets.
The company produced a limited run, which sold out in less than 48 hours.
Its bike to work pants have had similar success. Bikers were looking for trousers that they could bike in and wear in the office. Once Lindland heard the problem, it wasn't long before he came up with a solution.
Accidental start in fashion. In 2005, entrepreneurship was the last thing on Lindland's mind. At the time, he was the head of business development at an online company, just looking to shore up his resume with a creative project.
On a lark, he decided to design corduroy pants, which had horizontal ridges instead of vertical ones. He created a website -- cordarounds.com -- got a few made, and set out to sell them.
"I was hoping this website would lead to my next job," he said. "A month later, the pants were featured in The New York Times, style section," said Lindland.
Orders picked up. Weeks later, he was desperately trying to get 500 pairs of pants made with an investment of $4,000 out of his own pocket.
"I learned an important lesson. If I put out a product that's unique and with a great back story, I would get a lot of press attention for the idea," he said.
With the help of friends, he was able to come up with $200,000 in startup capital. He launched Betabrand in 2010. Banks did not like his nontraditional business model, so he didn't get a loan.
But angel investors thought the company was breaking new ground and funneled $1.25 million into it this year.
What's ahead. Lindland plans to maintain the company's irreverent counter culture and continues to experiment with new designs. He is looking to venture into women's apparel in March and later increase the number of new products that he creates a week.
But the longer Betabrand is around and the bigger it gets, the more hurdles it will have to jump, experts said.
Eventually, Betabrand will have to deal with copycats and more competition, said Barden. And getting bigger could sap the company's creativity and capacity to move quickly.
The real challenge for Lindland is to keep innovating, hire like-minded people and stay a step ahead of the competition, Barden said.
Lindland isn't daunted by any of that. "Our imaginations are a year ahead of what our business currently looks like," he said. "We need to do the best with what we currently have in order to earn the right to get there."