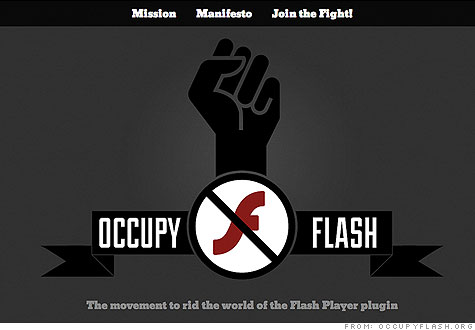 NEW YORK (CNNMoney) -- "Occupy" movements have taken over Wall Street, London, Chicago and Oakland. Now an "occupy" group is trying to take control of your Web browser.
Occupy Flash is a movement started by a small handful of independent Web developers who want to end the reign of Adobe's (ADBE) Flash Player plug-in in Web browsers.
For the non-geeks: Flash is an add-on extension to the browser that allows rich content to be viewed on the Web. Though the 15-year old technology is still commonly used for advertisements, videos and games, many developers have been moving toward more modern and universal standards like HTML5.
Among the movement's complaints are that Flash is "buggy," "crashes a lot," "requires constant security updates," and "doesn't work on most mobile devices."
Ouch.
Occupy Flash says that the plug-in's time has passed, and that HTML5 "has clearly won the fight for the future of our web browsing." HTML5 allows developers to embed content right into a website's code without the need for add-ons like Flash. That means video and geolocation services can be baked in, and content can be viewed offline.
"HTML is the 99%," Yankee Group analyst Carl Howe tweeted in response to the movement.
To wipe out Flash, Occupy Flash proposes that everyone disable or uninstall the plug-in from their browsers.
Though the organizers admit that users may not be able to view some Web content after they uninstall Flash, they see that radical step as the only way to move the Web forward. As long as the Flash software remains on computers, they say, some developers will either choose or be forced by their superiors to continue to write to it.
The website provides links and instructions to help Web users to get rid of the Flash Player from their browsers.
The movement's creators wish to remain anonymous ("this is not about us"), but they said they are a small collection of independent Web engineers and designers who have all done some Flash programming along the way.
The idea for the site began after Adobe announced Nov. 9 that it would abandon Flash support for mobile. Chatting on Facebook, several developers began complaining about the problems they see Flash creating for the Web.
"We feel this move effectively creates two Internets -- the one you can use on mobile/tablets and the one you can use on the desktop," one of the founders of the Occupy Flash movement said via e-mail. "This is not good for anyone except Adobe."
Inspired by their gripe session, the group bought the occupyflash.org domain on Nov. 11 and created the site in a few hours on Friday and Saturday.
Flash is a geeky issue to seize on, but it's a major pain point for Web developers aiming for consistency. Many smartphone and tablet owners, particularly those with Apple (AAPL, Fortune 500) iPhones and iPads, have not been able to view media coded for Flash on their mobile gadgets. Most Google (GOOG, Fortune 500) Android smartphones support a Flash app, but Adobe is ending its development work on the software.
"We all saw Flash as a really big point of inconsistency across platforms," Occupy Flash's representative said. "We just felt this was our moment."
The movement has a streak of whimsy running through it. Occupy Flash's founders compared themselves to a group that held a funeral for the much-maligned Microsoft (MSFT, Fortune 500) Internet Explorer 6 in the spring of 2010. Microsoft actually sent flowers for the event, and Occupy Flash said it hoped Adobe and its fans would maintain a similar levity.
No such luck. A barrage of angry e-mails and tweets have come Occupy Flash's way from Flash developers who say that the movement is trying to put them out of business. Some even created a rival Occupy HTML website, parodying Occupy Flash's site.
Adobe declined to comment, saying its views are fully expressed in its Nov. 9 blog about Flash and its future.
"We do not hate Flash developers, and are not trying to put anyone out of business. There are many very talented Flash developers out there, and we have a lot of respect for their skills," Occupy Flash's representative said. "We would love to see what these folks could do if they switched to HTML5 development."