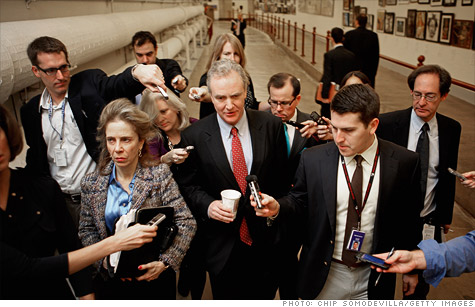 Rep. Chris Van Hollen is a member of the 12-person super committee.
NEW YORK (CNNMoney) -- The super committee is in the middle of a frantic scramble to agree on a debt reduction package of at least $1.2 trillion.
The deadline is Wednesday.
If the 12-member committee fails, it will go down as one more ill-fated attempt by lawmakers to bridge the ideological divide between Democrats and Republicans on fiscal issues.
But other than that, not much is going to happen. At least not right away.
The "automatic" budget cuts that were supposed to deter super-committee members from punting won't actually kick in until 2013. And that gives Congress more than 13 months to modify the law.
There will be tremendous pressure to do so.
The cuts would slash $1.2 trillion in defense and nondefense spending. Exempt from the cuts: Social Security and programs for low-income people, such as Medicaid. Medicare cuts, meanwhile, would be limited.
Top officials at the Pentagon have already laid out in explicit detail the ways in which military readiness and capabilities would be damaged if the $600 billion in defense cuts go through. And Democrats will be very reluctant to let cuts to Medicare and other nondefense program go into effect.
"The Congress is not bound by this," Sen. John McCain said last month. "It's something we passed. We can reverse it."
Of course, there is still a chance the committee will be able to reach the $1.2 trillion mark. A slim chance.
"It does look grim," said David Kendall, a senior fellow at the centrist think tank Third Way. "I'm in the optimism business, and it still looks terrible out there."
Even less likely is a "go big" deal that tackles the big drivers of future debt -- entitlements and health care.
If all they do is $1.2 trillion, that means U.S. debt would continue to grow faster than the economy.
And fiscal hawks worry that the committee, unable to agree on substantive issues, will instead populate the plan with small-fry spending cuts and a variety of "fake" savings
But kicking the can down the road on entitlements is still better than total failure, Kendall said.
"I don't think a smaller deal is necessarily a failure," Kendall said. "It clears the underbrush of minor issues. And that leaves no other choice than to deal with big issues."
And that, Kendall said, would be progress.
"It may seem like kissing your sister," he said. "But it's really a first dance."