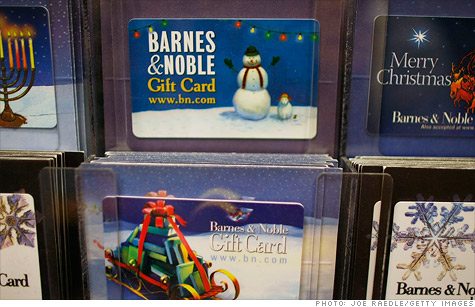 NEW YORK (CNNMoney) -- Gift cards continue to be the most popular holiday gift, despite the fact that many recipients turn around and trade them in for cash.
The majority, or 57.7%, of shoppers say they'd like to receive a gift card this holiday season, according to the National Retail Federation. And most probably will. Eighty-percent of people will buy gift cards this holiday, up from 77% last year, according to the NRF's report.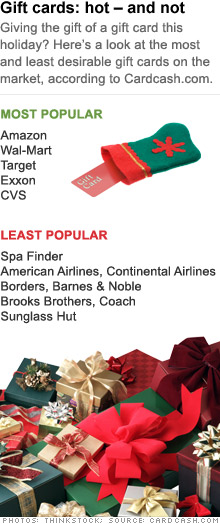 Holiday shoppers are expected to spend an average of $155.43 on gift cards, up from $145.61 last year and the highest amount since 2007. This season, total spending on gift cards will reach $27.8 billion, the NRF said.
The value of an individual gift card is rising, too. This year, consumers will spend an average of $43.23 per card, up from $41.48 in 2010.
But along with the rise in popularity of gift cards has come a growing number of sites dedicated to selling those cards for plain old cash instead.
"You can't use a gift card to pay for your mortgage or pay for your rent," said Elliot Klier, director of marketing and business development for CardCash.
CardCash.com, PlasticJungle.com, Cardpool.com, CardWoo.com and GiftCards.com are just some of the gift-card exchange sites where consumers can either hawk their gift cards for roughly 90% of the face value or buy gift cards at 10% to 15% off.
Easily accessible and all-encompassing retailers like Amazon (AMZN, Fortune 500), Wal-Mart (WMT, Fortune 500) and Target (TGT, Fortune 500) always make for the most coveted gift cards -- and least swapped, Klier said.
Alternately, luxury stores like Brooks Brothers and Coach (COH) or spa gift certificates are unloaded more often in the secondary market, mostly because the offerings at these spots often require recipients to pay extra in addition to the gift card value, Klier said,
Seasonal gift cards like Sunglass Hut, Rita's Ice, Bass Pro Shops and REI are also deemed undesirable around Christmas, he said.

According to the NRF, most shoppers said they will give friends or family a gift card to a department store, restaurant or the movies. Fewer consumers opted for bookstores, coffee shops and discount stores.
Are you an extreme Black Friday shopper? Tell us your game plan -- and all-time best deal. Email your response to jessica.dickler@turner.comand you could be part of an upcoming article.