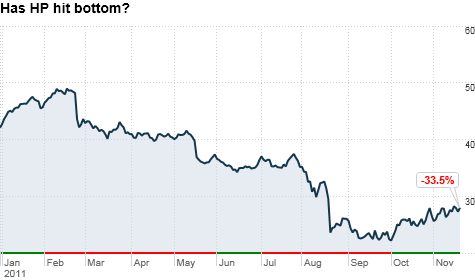 Hewlett-Packard's stock is still down sharply in 2011, but shares have rebounded since Meg Whitman took over as CEO in September.
NEW YORK (CNNMoney) -- I started the week with a column about IBM (IBM, Fortune 500), so it's only fitting that I end the week with a piece about a company I like to call IBM Lite. Or "Little Blue," if you will.
Hewlett-Packard (HPQ, Fortune 500), has tried (so far in vain) to replicate the magical mix of services, software and servers that has made Big Blue attractive to the likes of Warren Buffett.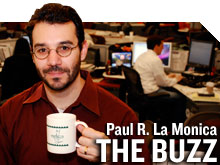 But on the eve of a key earnings report, shares of HP have made a stunning comeback.
HP will announce its fiscal fourth-quarter results after the closing bell Monday. It will be the first earnings release since Meg Whitman took over as CEO following the firing of Leo Apotheker. Analysts are forecasting a drop in sales and profits from a year ago.
Shares are up an astonishing 32% since hitting a 52-week low in late September --- the day after HP said it was hiring Whitman.
HP rose 4% alone on Friday after Sterne, Agee and Leach analyst Shaw Wu upgraded the stock. In his report, Wu wrote that shares have been oversold and that there is less of a cloud hanging over the company now that Whitman has reversed Apotheker's decision to spin-off the firm's PC business.
So to borrow a phrase made popular by eBay (EBAY, Fortune 500) -- the company Whitman is most famous for running -- is it time to buy it now?
Perhaps. HP's stock is dirt cheap, trading at just 6 times earnings estimates for fiscal 2012. Plus, HP pays a dividend that yields an impressive 1.7%.
There seems to be a growing sense that the worst may actually be over for HP -- and that Whitman may have the company on the right track.
"The bar is so low HP can almost fall and still hurdle over it," said Brian Marshall, an analyst with ISI Group in San Francisco. "The company is not broken. It's simply lost."
Along those lines, several analysts said they are actually hoping that Whitman lowers earnings and sales guidance for next year. People are clamoring for the company to "reset" expectations, since nobody believes that HP can meet current forecasts for next year.
But HP is going to have to play a delicate dance with estimates. The current consensus for fiscal 2012 is earnings per share of $4.56. If HP doesn't go much below that, investors may think the company is delusional.
If HP cuts too sharply, though, that could make people wonder if things are even more dire at HP than previously thought. Jeffrey Fidacaro, an analyst with Susquehanna Financial Group in New York, said that something in the range of $4.30 to $4.40 might be just right.
That makes the stock risky. If estimates get slashed, then you can throw the argument that HP is a bargain stock out the window. When earnings -- the E in a P/E ratio -- goes down, the valuation goes up.
And it's still distinctly possible that things could get worse for HP before they get better.
You'd have to be toner-deaf to ignore some of the near-term risks facing HP. As Dell (DELL, Fortune 500) pointed out this week, demand for PCs is still sluggish. Plus, many tech companies are facing a supply shortage due to floods in Thailand disrupting production at disk drive makers like Western Digital (WDC, Fortune 500).
HP also is no longer a player in the lucrative mobile world, after shutting down the smartphone and tablet business it created just last year through its Palm acquisition.
Analysts said that even if HP decides to stick with the decision to steer clear of the cutthroat mobile hardware world, the company needs to explain how it plans to be a player in mobile through software and services.
"What is their strategy when it comes to mobile devices?" Fidacaro asked. "Whitman needs to tell investors that."
But Brian White, an analyst with Ticonderoga Securities in New York, thinks shareholders will give Whitman some time to develop a longer-term strategy. He thinks investors are more worried about the many short-term headwinds.
White said that contacts at technology companies in China and Taiwan are telling him that demand now is similar to where it was in October 2008. Unless you have amnesia, I shouldn't have to tell you that isn't good.
"Whitman doesn't need to have a bold vision. It's too early," White said. "But it's a tough world and HP is going to struggle in this environment. This is a turnaround story. Yes, the valuation is cheap, but it can still go lower."
Reader comment of the week. Richard Simmons was in the Time Warner Center earlier this week, and the fitness expert made quite the impression on the CNNMoney newsroom.
As fun as it was to hear Simmons shout out pop culture-infused bon mots of inspiration ("You've got to move like Jagger!") I had to note over on the Twitter that he did not create the biggest stir ever in our newsroom: "In the pantheon of great @CNNMoney 'celebrity' sightings, Richard Simmons cannot hold a candle to Mr. T. Or Bradley Cooper for the ladies."
Mr. T. was the best. He took pictures with everybody. And trust me: The XX chromosome set of reporters and editors lost their mind when the dude recently dubbed "Sexiest Man Alive" by CNNMoney corporate cousin People graced our presence.
But one of my favorite (read: funniest) Twitter followers reported a brush with fame that topped our hanging with Mr. Cooper.
"Speaking of sightings for the ladies, I saw Kissinger pop out of a limo once in midtown," tweeted Adam Warner.
Hilarious. I'm sure that the hearts of any female foreign policy wonks were all aflutter. He does have that really cool accent.
The opinions expressed in this commentary are solely those of Paul R. La Monica. Other than Time Warner, the parent of CNNMoney, and Abbott Laboratories, La Monica does not own positions in any individual stocks.