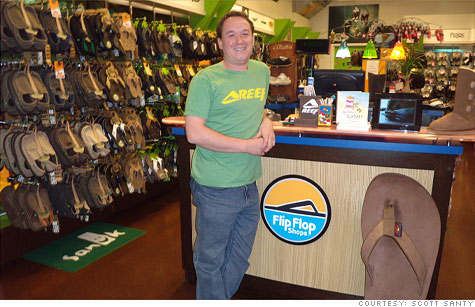 Scott Santy in his flip-flop store has made a cool million.
NEW YORK (CNNMoney) -- Scott Santy has always had a love affair with flip-flops, despite growing up in Wisconsin where the window for this type of footwear is narrow.
"Back home, anything over 40 degrees [and] I was in flip-flops," the 31-year-old said.
So he decided to open up a flip-flop franchise called Flip Flop Shops in Wisconsin. But while vacationing in Las Vegas his plans to open the franchise, well, flip-flopped. "I was walking up and down the Strip and almost every person was wearing flip-flops," said Santy. Later, he called up the CEO of Flip Flop Shops, Darin Kraetsch, and asked what he thought about Vegas instead.
Timing was everything: It turns out Kraetsch had just met with MGM Resorts International regarding real-estate opportunities, and wanted to open a Las Vegas shop. So that's what Santy did. In July 2009, he opened Flip Flop Shops inside Mandalay Bay Hotel & Casino in Las Vegas.
In August 2010, he passed the $1 million mark -- in part because flip-flops are hot. "In the past three years, U.S. flip-flop sales have grown 8.2 percent. This accounts for $1.5 billion of U.S. surf-wear retail sales," said Santy, a former financial adviser.
"The $1 million mark was exciting, especially when you can do something like that with a small shop," he said. "I was opening a store at the bottom of the economy, which is really scary."
Recently, Santy got a tattoo of the company's logo on top of his right foot -- and sent a photo of it to Brian Curin, the president of Flip Flop Shops. "How many brands get people excited enough to get a tattoo?" asked Curin.
Flip Flop Shops sells sandals for children, men and women starting at $20, and on up to $159 a pair. Funky design details include, for women, soles made from the same cushy material as yoga mats. There are even camouflage-design sandals for men.
Celebrities are among his clientele. "We've had some UFC fighters that came in, as well as a few pro football and baseball players," said Santy. "Many retailers at the Shoppes at Mandalay Bay have athlete autograph signings. So you never know who will be in the mall."
Despite selling flip-flops to five-star athletes, running Flip Flop Shops hasn't always been a walk in the park. One big challenge is high real-estate prices, said Santy. Another roadblock, in the beginning, was raising capital.
"Banks aren't lending," he said. "I was very fortunate to have my parents loan me money. Otherwise, I would not have been able to do it."
The biggest hurdle running the shop is convincing customers to toss out inexpensive drugstore sandals in favor of costlier options.
Santy deals with that by offering a wide variety of flip-flops. He also one ups the competition by adding special touches, such as custom ordering and free shipping. A vanilla-coconut scent is diffused through the shop to make customers feel as if they are at the beach, he said.
Flip flops have replaced the running shoe, said Marshal Cohen, chief industry analyst with the NPD Group. "It's one of the few categories that, even during the recession, continues to do well," he said. "Flip-flops, from even before the girls wore them in the White House, under Bush, have been a staple item in the wardrobe."
His next business venture is to open up a Ron Jon Surf Shop, which offers surfboards and other beach accessories.