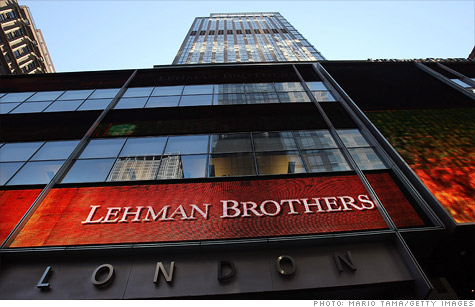 In an effort to avoid another Lehman Brothers-like situation, the Federal Reserve is requiring the nation's largest banks to participate in stress tests that mimic the 2008 crisis.
NEW YORK (CNNMoney) -- The Federal Reserve wants to know: could America's largest banks endure another shock like the one in 2008?
After the markets closed on Tuesday, the central bank ordered the top 31 U.S. banks, with assets of $50 billion or more, to participate in stress tests simulating another crisis.
Six banks with large trading operations will have an even higher hurdle to clear, simulating a more severe global financial meltdown. Those banks are Bank of America (BAC, Fortune 500), Goldman Sachs (GS, Fortune 500), Citigroup (C, Fortune 500), JPMorgan Chase (JPM, Fortune 500), Morgan Stanley (MS, Fortune 500) and Wells Fargo (WFC, Fortune 500).
"Institutions will be expected to have credible plans that show they have sufficient capital so that they can continue to lend to households and businesses, even under adverse conditions," the Fed said in a press release.
The Fed issued specific instructions that vary depending on the size and operations of each company.
In stress tests the Fed began conducting in 2009, only 19 banks -- those with $100 billion or more in assets -- were required to participate. But now Dodd-Frank regulations require annual testing of banks with more than $50 billion.
The stress tests require banks to see how they would hold up under such conditions as the stock market crash in 2008 and major declines in global economic activity, including an unemployment rate of 13%. The tests will also include scenarios that incorporate a financial crisis in Europe.
Banks will need to show that they can maintain a buffer of at least 5% of their capital on the sidelines, for times of economic stress.
Banks have until Jan. 9 to submit their plans to the Fed. Those that fail the tests may not be allowed to distribute dividends.
The Fed said it plans to release some of the results to the public, including estimates of revenue and losses for the original 19 banks participating in this exercise.