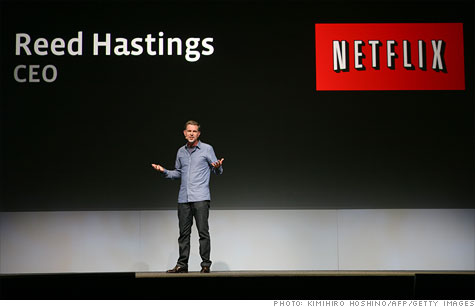 NEW YORK (CNNMoney) -- Netflix dropped a double bomb late Monday: The company now expects to lose money for all of 2012, and it is looking to raise cash in a secondary offering of its stock.
Netflix (NFLX) warned in its last earnings report that it expects to be unprofitable "for a few quarters" starting at the beginning of 2012. The primary culprit is Netflix's pricey plan to expand its streaming video service into the United Kingdom and Ireland, but a wave of subscribers jumping ship hasn't helped.
Monday's regulatory filing extended Netflix's "we're going to lose money" warning to the full 2012 fiscal year. Shares of Netflix closed 5.4% lower Tuesday.
The filing also revealed that Netflix is in the process of raising $400 million from investors to help bulk up its cash stash.
Netflix is selling 2.86 million shares at $70 apiece -- 6% below Monday's closing price -- to mutual funds and accounts managed by T. Rowe Price. That offering is scheduled to close around November 28.
It's also selling $200 million in convertible bonds to investment funds affiliated with Technology Crossover Ventures, a fund that has been investing in Netflix for more than a decade.
While that will give Netflix more money to invest in content, secondary offerings are sometimes considered ominous signs. They can signal that expenditures have outpaced expectations and that a company needs to raise more cash.
Netflix, which had $366 million in cash on hand at the end of last quarter, is facing threats from rivals with much deeper pockets. Studios are demanding more money for their valuable content, and the playing field is getting crowded. Beyond direct rivals like Hulu and kiosk service Redbox (owned by Coinstar (CSTR)), big tech players like Amazon (AMZN, Fortune 500) and Google (GOOG, Fortune 500) are jumping into the streaming game.
One analyst predicted earlier this year that Netflix's streaming content licensing costs will rise from $180 million in 2010 to a whopping $2 billion in 2012. Netflix said in its filing on Monday that it has payments of more than $3.5 billion due over the next few years to pay for content under contract.
Meanwhile, Netflix is losing some of those all-important licenses. In September, Starz ended contract renewal negotiations with Netflix and said it will pull its movies and TV shows from Netflix early next year.
That loss of content leaves angry customers asking why they're paying more for less. In July, subscribers were incensed after Netflix said it would begin charging separate prices for its DVDs-by-mail and streaming video plans. That amounted to a big price hike for Netflix customers, as the cheapest-possible bill for customers who want both services jumped from $10 to $16 a month.
As a result of the price hike anger, on September 15 Netflix was forced to cut its U.S. third-quarter subscriber estimates by 1 million customers, or about 4%, to 24 million. Shares plunged 19% that day.
But the real debacle came just three days later, on September 18. Netflix CEO Hastings announced that the company's movies-by-mail service would be rebranded as Qwikster, while the Netflix brand would be dedicated to streaming video.
Again, customers raged -- so much so that Netflix pulled a stunning reversal a few short weeks later and canceled the Qwikster plan. Many pundits and customers were shocked by the flip-flop move.
The subscriber ire is finally starting to cool. Cancellations "continued to steadily decline" in October and November, Netflix said in its filing this week. The company now expects its domestic streaming customer base to be flat in November and to resume "strongly positive" growth in December.