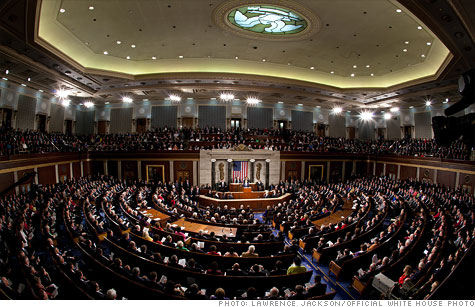 Congress at work.
NEW YORK (CNNMoney) -- The 112th Congress is not doing much to help the economy.
The super committee failed. Lawmakers failed to "go big" on a debt reduction package. Congress failed to preserve the country's AAA debt rating.
The list goes on: Congress couldn't pass a real budget. The government almost shut down on more than one occasion. Lawmakers pushed the nation perilously close to default.
And that's just the negative stuff Congress has actually done. By way of inaction, they have also failed.
"I give them a failing grade," David Kendall, a senior fellow at centrist think tank Third Way said before reconsidering. "Ok, I'll give them a 'D' because they did some deficit reduction. But even that was not done in a productive way."
The current Congress took power in January, when the economy was sputtering. It's still sputtering today.
The economy grew at only 2.0% in the third quarter, which is actually an improvement from 1.3% gross domestic product growth in the second quarter. The unemployment rate has been sitting at or above 9% since April, and higher than 8% for 33 straight months.
The besieged housing market has even further to fall before home prices really hit rock bottom -- a triple dip.
What has Congress done to help? Not much.
Congress has, to their credit, approved free trade agreements with Colombia, South Korea and Panama that have been in the works for years. And a bill designed to reform the nation's twisted patent system became law in September.
But vast areas of policy have gone untouched.
There is a reason for this: Lawmakers disagree on how to best promote growth. The two parties are miles apart on fiscal policy -- and they love to fight about it.
"This Congress has had a very difficult time getting its political footing," Kendall said. "It never seems to have gotten past this angry mob feeling. There is a lot of one step forward, one step back."
The intransigence of lawmakers has not gone unnoticed. President Obama, for example, changed his campaign trail slogan in response to Congress's inaction: "Yes we can" has become "We can't wait."
The American people noticed too.
Nearly seven in ten Americans think Congress has done nothing to address the problems facing America, according to a CNN/ORC International Poll released last month.
And a New York Times poll found that American's approval of Congress hit its lowest mark ever in October -- only 9% approve of the way Congress is handling its job.
If you're keeping track, that's pretty bad. The Nixon White House, for instance, maintained an approval rating of 40% -- more than four times Congress's current rating -- during the Watergate scandal.
Now, for the future. There are a couple of stimulus measures set to expire at year's end: extended unemployment insurance and the payroll tax holiday.
Economists at Capital Economics said in a research note Monday that an extension of the measures "is becoming a more remote possibility" and that "the resulting fiscal contraction will cause a sharp slowdown in the first quarter of next year."
Some economists put the total potential drag on the economy at 0.5% of gross domestic product.
The White House is already pushing for their renewal -- and pushing hard.
"Don't vote to raise taxes on working Americans during the holidays," Obama told Congress on Tuesday. "Put the country before party. Put money back in the pockets of working families. Do your job.'
There is hope in Washington that the payroll tax cut will be extended -- after all, letting the measure expire would amount to a tax hike.
"They have to salvage what's left of their reputation by doing something," Kendall said.