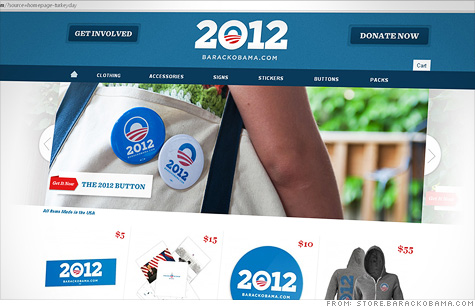 What's more American than shopping?
NEW YORK (CNNMoney) -- President Obama is spending Black Friday in Washington -- far removed, and protected, from the frantic melee taking place at retailers across the country.
But his campaign website is open for business. And there are deals to be had. Oh, the deals!
While the bargains aren't quite as good as those found at big box retailers, BarackObama.com is offering 10% off purchases of $10 or more.
"Why brave the crowds when you can shop at the Obama 2012 store in your pajamas?" the site asks.
Indeed. If you've ever wanted an Obama-themed grill spatula, golf divot tool, cufflinks or Joe Biden beverage coozie, now's your chance.
And if you're a big fan of Portuguese water dogs, the store offers a campaign button that features Bo, the president's dog. There are also Obama 2012 dog bandanas up for grabs.
Another untraditional item on sale Friday: A coffee mug that features Obama's, well, mug, and the words "Made in America." On the back? His birth certificate, in miniature.
Of course, the campaign is also offering more traditional swag such as t-shirts, jackets and sweatshirts.
But the Obama campaign does seem a bit confused. Online retailers usually gear up more for Cyber Monday -- three days later -- than the day after Thanksgiving.
And lest anyone forget -- the 2012 campaign is well underway. A quick survey of the competition reveals no Republican challenger is having a sale at his or her campaign store -- and a few don't even offer merchandise.