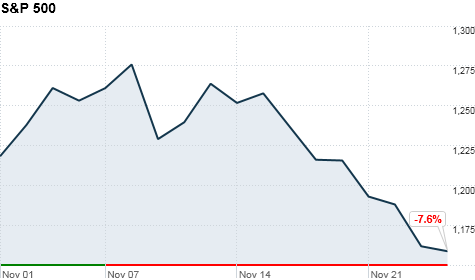 Click the chart for more stock market data.
NEW YORK (CNNMoney) -- The holiday season has officially arrived, but whether investors will have much to be jolly about next week is uncertain, as Europe's debt woes continue to weigh on the market.
Pessimism and optimism over Europe's debt crisis have been whipsawing stocks for months, and investors will likely continue to react to headline after headline, keeping the market's roller coaster in high gear.
"We'll probably see more fear, carnage and uncertainty," said Ethan Anderson, senior portfolio manager at Rehmann Financial. "Investors are seeing the headlines and reacting emotionally. The common response is to jump out of the market."
Developments in November have been especially disheartening, with bond yields rising in Europe's larger economies, particularly in Italy and Spain. Last week, yields spiked amid a series of disappointing debt auctions, which further heightened fears of a contagion and sent stocks about 5% lower.
The weak demand for eurozone debt pushed the Italian 10-year yield back above 7%, and the Spanish 10-year yield within spitting distance of that level. That 7% level flashes warning signs for investors, since it was the threshold that eventually led to bailouts for Greece, Ireland and Portugal.
Investors will continue to monitor eurozone bond yields next week, with Italy, France and Spain holding government bond auctions. Belgium, whose credit rating was downgraded by Standard & Poor's on Friday, is also having a debt sale on Monday.
As Europe's debt crisis continues to spiral downward, investors are looking for European leaders and policy makers to step up to the plate with a solution.
"This market is going to continue to be driven by what's happening in Europe," said Brian Lazorishak, portfolio manager at Chase Investment Counsel. "If things seem to be falling apart, nothing else will matter. If it looks like there's a way out -- a light at the end of the tunnel in Europe -- that could spark a decent rally from where we are now."
On Monday, all eyes will be on the EU-US summit in Washington, D.C., where European and U.S. officials are likely to discuss tactics to resolve Europe's debt crisis. European Council president Herman Van Rompuy, European Commission president José Manuel Barroso, President Obama and Secretary of State Hillary Clinton are all expected to attend.
Later in the week, European Union finance ministers will gather in Brussels for their final meeting of the year.
While Europe will dominate, investors will pay some attention to U.S. economic data next week, especially the November jobs report due on Friday, said Rehmann Financial's Anderson.
"Economic data is getting better in the U.S., even in the job market," he said. "But once again, any improvement could be overshadowed by news out of Europe."
Economists expect the economy added 118,000 jobs in November, while the unemployment rate held steady at 9.0%.
Earlier in the week, reports on the housing market, construction spending and manufacturing activity are on tap. Readings on consumer confidence and the Federal Reserve's Beige Book are also expected, along with auto sales figures.