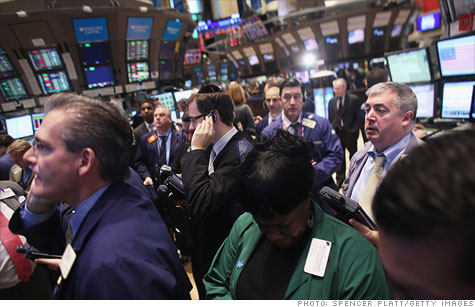 Finance professionals worldwide will face steep pay cuts this year.
NEW YORK (CNNMoney) -- Finance professionals' pay is set to drop this year to the lowest levels since 2008, the peak of the global economic crisis, according to a report released Tuesday.
The pain will be felt worldwide, as compensation in the sector is set to decline 27% this year in the United States, Europe, the Middle East and Africa, the Options Group consulting firm said. Pay will drop 18% in Japan and 19% in the rest of Asia, though just 1% in Latin America.
Taking the biggest hit will be staffers in fixed income, currencies and commodities, whose compensation is forecasted to decline 33%. Those in equities face a 29% drop ,while those working in investment banking will see a 14% decline. Wealth management and electronic trading workers will see slight pay increases.
Year-end bonuses, which constitute a large portion of take-home pay for many finance professionals, will decline between 20% and 30% on Wall Street this year, according to compensation consulting firm Johnson Associates.
"The lack of economic recovery, combined with ongoing uncertainty in the world markets, and global and regional regulation are driving most financial services firms to significantly reduce the size of their bonus pools," Johnson Associates managing director Alan Johnson said in a statement earlier this month.
While the declines are steep, those facing pay cuts should at least be thankful that they still have their jobs.
The financial services industry has lost more than 200,000 jobs globally this year, according to data compiled by Bloomberg. Bank of America (BAC, Fortune 500) alone has announced plans to cut 30,000 employees over the next several years.
Firms are finding other ways to control costs as well, as multi-year contracts are becoming rarer and senior executives are taking on greater responsibilities for less pay, Options Group said.
Looking ahead, Johnson Associates said bonuses should bounce back by about 15% next year, with additional hiring in emerging markets but further cutbacks in the United States.