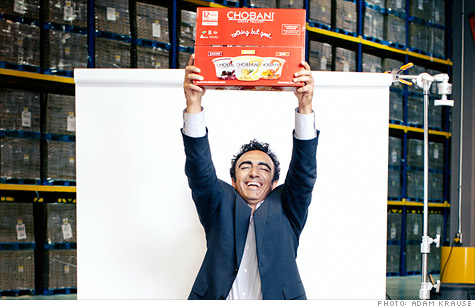 Chobani founder Hamdi Ulukaya
FORTUNE -- Chobani's 40-year-old founder, Hamdi Ulukaya, has grown his company in just a few short years into a $257 million business. It is now No. 3 among all yogurt brands (see chart at bottom), just after Yoplait and Dannon, and tops the booming Greek-style yogurt niche, which grew 200% last year. In November, Chobani (pronounced cho-BAN-ee, meaning "shepherd") broke ground on a new $100 million plant in Twin Falls, Idaho, to help fuel its U.S. expansion, and it recently purchased a dairy in Australia. Here's the Greek-yogurt king's story:
Growing up in eastern Turkey, I was not really involved with the family business -- sheep and cow farming, yogurt and cheese making. But I think I learned from my father the unspoken business language or instincts that go back thousands of years. We call it Anatolian business practice -- your reputation is your asset.
I came to the U.S. in 1994 to learn English and go to business school, but I took only a few business courses at the State University of New York at Albany and didn't finish. My father had come to visit. He said, "They don't have very good cheese here. You should make cheese." I said, "What? I didn't come all the way here to make cheese!" But I did. I started a feta cheese company, Euphrates, in upstate New York in 2002. It was two years of the most challenging days of my life.
By 2005, I thought maybe I would relax and have a family. But one day I opened a piece of mail. It said, "Fully equipped yogurt factory for sale." I threw it away. But then I thought about it later and went back and got it out of the garbage. I called. It was nearby, in South Edmeston, N.Y., near Utica. Kraft (KFT, Fortune 500) was closing it and getting out of the yogurt business. There were a million reasons not to buy it. My friends said, "Don't do it." But I did. I was listening to my instincts that there's something in this. I hired five people from the 55 that Kraft had let go. When I first met with them, they said, "What are we going to do?" I said, "Let's start by painting the walls." Then I hired a yogurt master. It took a year and a half to make a perfect cup of yogurt. Then we put our sales strategy together. We didn't want to do high end. We went to the big chains and said we wanted to put it in the regular yogurt section. We launched the product in 2007.
When the first 200 cases from our first three small stores in Long Island were getting repeat orders -- meaning that customers were coming back the next week to buy the product again -- that was a big relief. Then we got BJ's [Wholesale Club] in late 2009, and Costco (COST, Fortune 500) after that. We were overwhelmed and humbled, but not surprised. Deep down we knew we had something really good. We took a plant that was being closed by a big company thinking there was no good use for it, and we came in with a different perspective. We bought some used equipment, as simple as we could [buy].
When we saw that it was working, we started investing more in the plant. It's the same plant, same community, and now we are the biggest yogurt plant in the Northeast. We use 3 million pounds of milk a day. If we had said to local farmers three years ago that we were going to need that much milk, they would have said, "You're crazy." But we wanted to make sure that the milk was made proudly by local people, and they have supported us with supply. With our planned $200 million plant expansion, we will ultimately have more than 1,200 employees in New York, plus another 400 at our new plant in Idaho by the middle of next year.
Everyone asks me why someone Turkish is making Greek yogurt. In Greece it is not called "Greek yogurt." Everywhere in the world it is called "strained yogurt." But because it was introduced in this country by a Greek company, they called it "Greek yogurt." It doesn't matter whether it's Greek yogurt or Turkish yogurt, as long as it's a good yogurt.
The most exciting aisle in the supermarket now is yogurt. The market is really growing big, and what's really growing is Greek yogurt. In January we launched our kids' line in smaller portions, and this January we are planning to launch three new Chobani flavors -- apple cinnamon, blood orange, and passion fruit. I chose pomegranate as one of our original flavors because I grew up with it. It's unusual, but it's one of the best successes we have.
The yogurt story in this country is just getting started. We feel that as long as we stay true to who we are -- quality, good-tasting products that are priced fairly and honestly positioned -- our growth is limitless. So that's what we're doing, and we won't compromise. All this growth has happened at the worst time this country has faced economically. But I trusted my instinct, and I designed the company to support it and support the growth. Maybe now I can relax and have a family!
My advice
Keep direct contact with consumers. I don't believe in "customer research." We just listen directly to consumers. All feedback on our website comes directly to my BlackBerry. Complaints are not a bad thing. Complaints are an opportunity. In fact, I have a lot of people who work for the company who started out as consumers. Our head of marketing was a consumer. I don't remember, but he made a suggestion in a very clever way.
Keep 'em happy. Nobody's job is more important than anybody else's. The person who was answering calls is now the head of purchasing. We interact very humanly with the farmers, the consumers, and the suppliers. There is a spirit in this country I've not seen anywhere else in the world. We don't make work a stressed place; we make it a fun place. You should have joy together.
Seek perfection. I mean that I have to enjoy it. It has to be nutritious, have real fruit, probiotics, and be low in fat or no fat, all natural, and hormone-free. It has to be accessible in price for everyone, not just high-end consumers. The market might go up and down, but as long as we keep up the quality, we are okay. We want a good product, and we want to make it in a good way -- for consumers and the community.
This article is from the December 12, 2011 issue of Fortune. Chobani, which confirmed press reports that it was a $257 million business in 2010, said after publication that sales for 2011 are expected to be about $700 million.