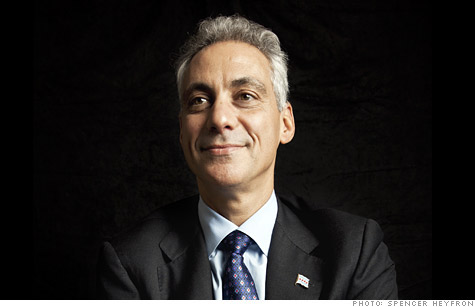 FORTUNE -- If Chicago were a company, it would be the classic big, successful incumbent that needs new management. Its finances are out of whack. Public education is awful; only 55% of ninth-graders graduate from high school. The homicide rate is much higher than in New York or Los Angeles. America's third-largest city, Chicago gained population in the '90s and then lost all those gains over the past decade. The city still thrives -- it's No. 7 in a recent PricewaterhouseCoopers ranking of world cities by competitiveness -- but the trends aren't great. Chicago got new management in May when Rahm Emanuel was inaugurated as mayor. He's the kind of insider-outsider who often succeeds in redirecting an enterprise. A Chicagoan born and raised who worked in the first campaign of his predecessor, Richard M. Daley, he knows the territory. But he owes nothing to Chicago's Democratic machine. Emanuel, 52, was an adviser in the Clinton White House, then represented a Chicago-area district in Congress for three terms. After a stint in investment banking at Wasserstein Perella, he was President Obama's chief of staff before leaving to run for mayor. He talked recently with Fortune's Geoff Colvin about fighting the teachers' union, how to attract business to a city, his friendship with Steve Jobs, and much else. Edited excerpts:
Q: You've been mayor about six months. What's the most important thing you've learned?
A: I always wanted to be mayor of the city of Chicago. You make a decision about recycling or mental health clinics, and in 30 minutes people are giving you their opinion. So it is the most immediate and intimate form of government that people feel closest to, the most attached to, and that in their view -- not wrongly -- directly impacts the way they live. While I knew it, I don't think I quite appreciated it. I always joke with my predecessor, Mayor Daley -- I say, "You never really told me the truth. You said this was a good job. It's not. It's a great job."
When you came in you were looking at a budget deficit next year of over $600 million. What were your going-in principles for dealing with that?
First, prayer. Well, actually we have laid out a plan for the $637 million, and $417 million is either cuts or reforms. We're bidding out services in competitive bidding, which organized labor has agreed to. We're reforming how we provide health care. So there are a lot of reforms as well as cuts. They're structural in nature.
I made a commitment that we're not raising property taxes or the sales tax. We cut the per-employee head tax by $2 [a month] out of $4. And we're returning $20 million to the rainy-day fund, which is why the three credit agencies gave good marks to the city [recently maintaining the city's credit rating, which they had cut last year]. I have dealt with individual fees, but all of them are what I call "value propositions." We're going to have a downtown congestion fee, but we're rebuilding our mass-transit system with it. I'm not filling the deficit hole. I'm going to build new stations to move people more economically and quickly from home to work. One of the competitive advantages Chicago has for a GE (GE, Fortune 500) or another company to move a job here is the convenience of moving a workforce from where they live to where they work. In every one of those areas I thought this was an opportunity to finally get it right, and I said we would not let our politics make the decision. We're going to make "value for taxpayers" make the decision. The political thing would be to do what we've been doing, and it's not working, and the voters were pretty clear.
That's a big issue for a lot of governments. You said at your inauguration, "Taxpayers deserve a more effective and efficient government than the one we have today." What are the best ways to get there?
As an example, in the school system [which has a budget separate from the city's] we cut $400 million out of the bureaucracy, yet 6,000 more kids are going to get a full-day kindergarten than last year. Seven new schools, four of them charters, three of them schools of excellence, plus 2,500 more kids in a magnet school.
Invest in where the customer meets the service. We've moved 1,000 police officers out of bureaucracies and buildings onto the streets. The beat officer, not a bureaucrat in a building, fights crime. You keep remembering where the contact is made with a resident, a commuter, or a child at a school. We are in a service business.
We did a study of our community health care. I'm a firm believer that for the underserved, community health care is the best preventive care you'll find. We found that Federally Qualified Health Centers deliver better health care at 100 bucks cheaper a visit. [Seven city clinics will partner with existing FQHCs,] so my taxpayers will save 10 million bucks, and the people who rely on an essential service will get better care. That's how you get a more efficient government.
If people know you're going to watch their money and get value, they'll be more affirmative about what government can do. You see this across the country -- people don't think government can run a one-car parade. You can't be a progressive, which I am, and see government as an affirmative force for making positive good, if people don't have confidence that government knows how to organize a one-car parade. We need to show we can give value, not so that we can have more government, but so that people who pay for it are getting the value of what they're putting their money in the machine for.
About 80% of the budget is employee costs, so it would seem you've got to lose some people. How do you make those decisions?
I've eliminated 500-plus positions permanently -- not left them vacant -- permanently. I asked every one of my commissioners, "What is your mission? Don't tell me it's what we did last year, and because of inflation I need 2% more. Just tell me what you do. Now, does your organization chart, and who you have, fulfill that mission, and who's not essential to it?" So the city taxpayer has more relevance than the city payroll, which in Chicago is a whole new mindset.
You're trying to change structures and norms that have been there for a long time, and a lot of people have an interest in maintaining what was there.
You think?
Yeah. So how do you fight it?
Sometimes you have to fight it. Sometimes you win -- you're persuasive. And sometimes you have to lead by example. I have cut my own office. Every one of the 500 positions I mentioned is middle or senior management. So I'm not asking anybody down the line to do something we haven't done upstairs. That's one.
Two: Let me tell you where I think we're making an impact. We've put out recycling in the city to competitive bid. Waste Management (WM, Fortune 500) is competing against city sanitation workers. Two weeks running, the streets and sanitation workers have finished two hours early and have asked for fewer trucks because they said, "I want to compete and I want to win." When was the last time you heard public employees say, "I want to compete and win?" They used to think it was theirs by default because they showed up and wore the jersey. Now they have to win it, and to their credit, they're going out and trying to win it. It is not in this case a non-union shop vs. a union. Both are the same unions: Teamsters and Laborers. So it's not a question of a race to the bottom on price. It's a better service for the taxpayers who pay the bill. Now labor has agreed as my partner to seven functions -- tree-trimming, towing, booting -- all going out to competitive bid, and they will have to win the work. That is a fundamental change.
I still visit fire stations, central offices. I talk to the workers who pick up garbage. I respect what they're doing, but I expect them to do it. For too long the notion of getting a city job has been basically an entitlement. Now you have to earn it, and if you do that, your community is going to be better for that sense of competition.
Attracting jobs is a big focus for every mayor. What does the city need to do most to become more business-friendly?
Usually what's associated with that is cutting taxes. Now we cut the per-employee head tax by 50%, and I'll eliminate it in my first term. But I believe that's not what is business-friendly. I'm doing it because it's the right thing to do. I do not think we're having the right debate in our country, or our city, which is, if I said I'm going to keep the per-employee head tax, but we're going to go from a high school graduation rate of 55% up to 75%, I believe that's business-friendly.
I'm going to have a community college system that gives you a workforce that is trained and ready to work. That's business-friendly. I'm going to make improvements in my infrastructure; 60% of our people take mass transit to and from work, one of the highest percentages in the country outside of New York City. That's business-friendly. When [United Continental (UAL, Fortune 500) CEO] Jeff Smisek decided to add 1,300 jobs in Chicago, the fact that we're making tough decisions, willing to take on our educational system, willing to invest in our physical infrastructure -- that was business-friendly, and he was ready to double down on a city he's already got a corporate headquarters in.
Education is huge whenever I talk to CEOs. Chicago has some of the world's great universities, but K-12 has not performed well for a long, long time. What are the first steps you're taking to fix that?
There are things we can do in the building and things that we can't but we need to affect. The most important door a child walks through for an education is not the front door of the school. It's the front door of the home. You and I would not be sitting here if our parents did not teach us the value of an education. At school you learned things, but at home you learned the value and importance of it. We need to entice parents to be involved in their kids' education. Dropping them off is not taking yourself off the hook. Too many parents think, I'm done -- I got them there on time. Uh-uh. You ain't getting a pass on parenthood. That's No. 1.
No. 2: We have the shortest school day and shortest school year of any major city in the country, and starting next year, we have the ability to change that. The board has the ability to declare the length of day and length of year without going through collective bargaining. That was a major change. We're starting that process early with certain schools so we can test it. All those kids are getting more reading, math, and fundamentals.
We're putting more emphasis on principals. They organize that building, have an esprit de corps in that building. We've created performance pay for principals. We've changed the training so that by the time my term is done, about 50% of them will be retrained or replaced. We have really good teachers. They're dedicated to their profession. The way we're organized, they can't succeed. And who gets shortchanged? The kids.
Extending the school day and the school year has not been popular with the teachers' union. The union president, Karen Lewis, has called you "dirty," "low-down," and more. Are teachers' unions friend or foe in improving education?
They agreed to the legislation that passed 59 to 0 [in the state legislature] allowing us to establish the length of day. I understand they're not crazy about it. I got that. I also want to separate teachers from teachers' union leadership -- not the same thing. Our teachers are really good. They really work hard. They deserve good compensation, which is why Chicago has the No. 1 pay in the country. You talk to teachers about lengthening the day, they'll whisper to you, "It's the right thing to do." They know you can't do math in 40 minutes a day only three days a week.
So now I don't want to fight about it. That should be over. Let's have a real healthy discussion about how to use the time. I guarantee you that in Hong Kong, they're not having a debate on whether five hours a day is adequate. Nobody today, driving the garbage truck in the city of Chicago or at the top of the most powerful financial institutions in the city, got there on five hours a day of education. They were there for 71D 2 hours. And I'll tell you this, the future trucks we're buying will require technological skill that you can't get in five hours a day.
Steve Jobs was a great fan of yours and a contributor to your campaign. What was the relationship?
I'd known him since 1992 -- got to know him in the Clinton campaign and stayed in touch with him. I stayed at his house. When I left the Clinton White House, I went and stayed at Steve's home with the family. They were supporters. But more than that, I used to talk to Steve on a regular basis. We talked about politics, business, technology. We talked about strategies. I consider myself lucky. He had insights into the larger body politic, and I wanted to hear about them.
The Leadership Series: Formerly called "C-Suite Strategies," this is the latest interview with a top executive by Fortune senior editor-at-large Geoff Colvin. See video excerpts of this interview at fortune.com/leadership -- plus find Colvin interviews with Charles Schwab, the team of Jeff Immelt (GE) and A.G. Lafley (P&G), Pimco's Mohamed El-Erian, Harry Brekelmans of Shell, Nils Andersen of Maersk, and many more.
This article is from the December 12, 2011 issue of Fortune.