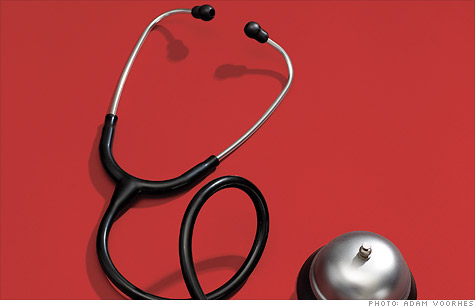 (MONEY Magazine) -- It's an all too familiar litany of hassles: You need to see a physician to take care of your aching hip -- and the next appointment is weeks away. Or you skip out to the doctor during a workday lunch -- and though you see the actual doctor for all of 10 minutes after the inevitable long wait, a third of your day is gone.
It's easy to see the appeal in so-called concierge medicine -- where you pay an annual retainer fee (on top of standard treatment charges) to join a network of primary-care physicians who offer premium services such as shorter waits, longer visits and a quick response via phone or e-mail.
Retainer-based physicians say they can better coordinate your care with specialists, and some will help you access top specialists who are otherwise hard to reach.
Concierge care is attractive from the doctor's standpoint: It allows primary-care doctors, who receive far lower insurance reimbursements than specialists, to see fewer patients without hurting their income.
Although there are only a few thousand retainer-based physicians today, that number has doubled in the past two years, says the American Academy of Private Physicians, and the trend is likely to continue:
"Health services are the fastest-growing segment of the health care business," says Mark Murrison, marketing president for concierge chain MDVIP, which is owned by consumer products giant Procter & Gamble (PG, Fortune 500).
Better care? Perhaps
All doctors are obliged to treat you to the best of their ability, but concierge practices say that a doc who can pay extra attention to you and your family history is more likely to catch diseases early on.
Though there aren't good academic studies on concierge care, some consumer experts believe better service can drive better health, especially for patients with chronic conditions.
"A happy patient is more likely to adhere to the doctor's recommendations," says Dr. Ashish Jha, an associate professor of health policy at Harvard.
Thinking of signing up? Here's what you need to know.
Better service? For sure
Concierge practices are usually small, independent clinics or part of nationwide chains.
Membership fees average $1,800 a year but can run as high as tens of thousands on the upper end. (Some of the fees may be eligible for a pretax FSA or HSA account.) Three-quarters of concierge doctors take insurance.
Services differ across practices, but short wait times, wellness programs, and screening exams are typically included.
How much should you budget for health care? Send The Help Desk your questions.
At MDVIP, for example, which contracts with 500 physicians across the country, the $1,500- to $1,800-per-person fee includes lab work, diagnostic exams, wellness plans and guaranteed 30-minute office visits.
Top-of-the-line retainer programs, which have doctors who are less likely to take insurance, might even give you 24/7 access to your physician.
When it's worth paying up
Concierge medicine makes the most sense for those with a chronic illness, like diabetes, in which case frequently keeping in touch with your doc can potentially prevent costly complications, says Jha.
Some retainer groups negotiate lower fees for in-person visits, which can be important if you're in a high-deductible health plan. And online and phone consults may save you money by enabling you to see the doctor less often.
To find a concierge doctor in your area, go to the American Academy of Private Physicians' website and click on "Find a Physician."
Since concierge care isn't standardized, it's up to you to find out the exact services you'll be getting. For example, are you guaranteed same-day appointments with your physician? A certain amount of time per visit? Does the "24-hour access" apply to your doctor -- or a physician assistant?
Says Jha: "If it's just a matter of a nicer waiting room, it's not worth it."