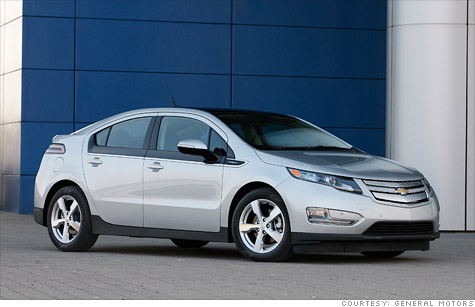 Most owners of the Chevrolet Volt say they would "definitely" buy another one.
NEW YORK (CNNMoney) -- The Chevrolet Volt, General Motors' plug-in car, topped the rankings in the latest Consumer Reports customer satisfaction survey.
The survey asked new car owners how likely they would be to purchase the same vehicle again. In the case of the Chevy Volt, 93% of owners said they would "definitely" buy the car again.
But the magazine warned that, at the time the survey was done, the Volt was on sale in only a few states and had been purchased by just a few thousand people. The car first hit showrooms in December, 2010.
"[I]t remains to be seen if the score will hold up as the car rolls out to a wider audience and owners spend more time with their vehicles," Consumer Reports said in its announcement.
The Volt is a plug-in car that can go about 40 miles on a charge, but also has a a gasoline engine to provide power for longer drives.
And there's another caveat to the ranking: The survey was conducted before the National Highway Traffic Safety Administration announced it's opened an investigation into possible post-crash fires in the Volt's lithium-ion battery packs. The investigation was prompted by a fire in a Chevrolet Volt that ignited weeks after a crash test.
The fires took place weeks after the crash tests, significantly reducing the risk to owners. Still GM responded to the investigation by offering a loaner car to any Volt owner who was concerned about the safety probe. GM announced Thursday that only 33 of more than 6,000 Volt owners -- or well less than 1% -- have sought loaners since the offer was announced Monday.
Performance cars and hybrids tend to perform best in this satisfaction survey, presumably because owners are more emotionally invested their vehicles.
"Boring cars tend not resonate as much with owners," said Jeff Bartlett, a Consumer Reports auto editor.
In this year's survey, the Volt topped the Dodge Charger, a performance-oriented sedan, and the Porsche 911 sports car. Both those vehicles scored 91%.
The magazine surveyed 314,000 Consumer Reports subscribers who own model year 2009 through 2012 vehicles.
In all, 27 models earned scores over 80% in the survey. Among them were the Toyota Prius, Volkswagen Golf TDI, Chevrolet Camaro and the Ford Mustang GT.