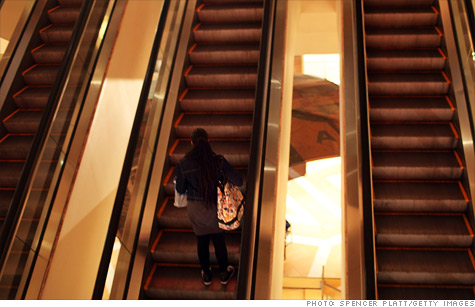 NEW YORK (CNNMoney) -- On the heels of a record Black Friday followed by a Cyber Monday that went down as the highest-grossing online shopping day in U.S. history, there's one thing retailers know for sure -- shoppers love a good deal.
To encourage shoppers to keep spending between now and the end of the year, expect retailers to keep slashing prices, said Marshal Cohen, chief industry analyst at the NPD Group.
"This is not the season to be standing on principal," said Joel Bines, managing director in the global retail practice at AlixPartners. "All retailers need to have their foot on the gas in terms of promotions."
Even though Black Friday weekend and Cyber Monday notched new records, those key shopping days were not enough to lift retailers out of the doldrums, they said.
Persistently high unemployment and uncertainty about the economy continue to weigh on shoppers, especially in the lower income brackets.
"We've got dual economies -- the middle and upper middle class are spending and the lower part of the spectrum is having a very difficult time," Bines explained.
That was reflected in November's same-store sales reports -- an important gauge of a retailer's health, which measures sales at stores that have been open for at least a year.
While high-end consumers showed still had an appetite for luxury goods, with department stores like Saks (SKS) and Nordstrom (JWN, Fortune 500) beating expectations, discounters and big-box stores like Kohl's (KSS, Fortune 500), Target (TGT, Fortune 500) and J.C. Penney (JCP, Fortune 500) disappointed.
"It's the higher income consumers that are carrying the day and the luxury stores that show the results," added Alison Paul, vice-chairman of Deloitte's retail & distribution sector.
Target's same-store sales fell short of estimates despite an extremely busy Black Friday shopping weekend, when high-end items like the 8GB iPod Touch, Westinghouse's 46-inch LCD HDTV and the Leapster Lappad were among the bestsellers.
Doorbuster deals and promotions may have driven foot traffic and sales to retailers like Target at the end of November, but as most consumers reconsider their budgets, there will likely be a lull in the next few weeks, Bines said. "We're not off to the races, let's put it that way."
For now, the National Retail Federation said it is sticking with its earlier forecast for overall holiday retail sales to increase 2.8% to $465.6 billion during the months of November and December.
To keep consumers in the shopping spirit, here are some of the post-Black Friday deals retailers are rolling out:
Target announced another toy sale Thursday, where shoppers can buy one get one half off from Dec. 4 through Dec. 10. The discount giant also said it would feature one deeply-discounted toy a day in stores and online until Christmas.
Toys R Us said it will kick off "Super Sale Saturday" starting at 6 a.m. Dec. 3, with over 85 doorbusters like $30 off Razor scooters, buy one get one free on packs of Moshi Monsters and buy one get one half off on Uglydolls.
Best Buy (BBY, Fortune 500) is offering free smart phones throughout December with the purchase of a two-year plan and Amazon (AMZN, Fortune 500) is launching "Holiday Flurry Deals Week" starting Sunday, Dec. 4. That's in addition to free shipping offers throughout the month from retailers across the board, including Wal-Mart (WMT, Fortune 500)