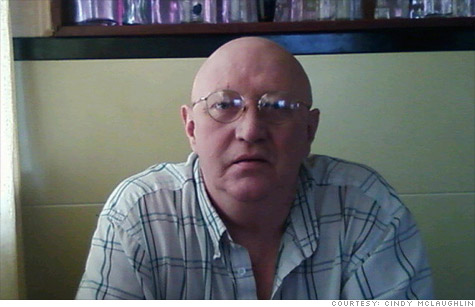 Bill McLaughlinn is fighting cancer and has lost his eligibility for a government program to help defray energy costs.
NEW YORK (CNNMoney) -- Bill McLaughlin is bracing himself for a tough winter.
He and his wife, Cindy, live in Brewer, Maine and neither of them are working. Bill, who's 59, is disabled, and Cindy lost her job more than a year ago. And now the cold is setting in.
During any winter in Maine, paying for the oil that heats their home is a big expense. But this winter, it will be especially taxing.
The price of heating the average home with oil is expected to jump 10% this year to an average of $2,535 over the winter heating season (October 1 through March 31), according to the U.S. Energy Information Administration (EIA). That's 45% higher than just two years ago, when the average bill was just $1,752.
Even while keeping the thermostat in the low 60s, the McLaughlins burn about 750 gallons of oil a year. At about $3.50 a gallon, that's more than $2,600.
"We're in a real bind; There's no safety net," said Bill. "We've run through all our savings and if we pay for heat, we have less money for food and medicine. We don't even have our car out on the road. My wife depends on friends when she has to go someplace."
The McLaughlins can partly blame their soaring heating bills on political unrest in Libya, which has caused oil prices across the globe to soar, explained Neil Gamson, an economist and forecaster for the EIA.
The couple also lives in one of the few regions in the country that is still highly dependent on oil as a home heating fuel. While only about 8.2 million homes still use heating oil, according to Census Bureau data, a vast majority of those homes are in the Northeast, where long, cold winters require greater fuel consumption.
In this region, more than one in every four homes relies on heating oil, the EIA reports, and many don't have the option to switch to cheaper fuels, such as natural gas.
"In some places, the natural gas infrastructure is just not there," said Gamson. "There are no gas lines in some older Northeastern cities."
Subsidy cuts: For many cash-strapped Americans, the increase in fuel costs is coming at the same time when funding for the government's Low Income Home Energy Assistance Program, or LIHEAP, which subsidized energy bills for 9 million households last year, may get slashed almost in half.
In mid-November, President Obama signed a budget bill authorizing a 47% cut in LIHEAP's funding to $2.5 billion, according to a spokeswoman for the Department of Health and Human Services (HHS), which administers the program.
The final funding levels for LIHEAP will likely be taken up later this year or in early 2012, said Ed Gilman, a spokesman for Maine Congressman, Mike Michaud. But the cuts have already begun.
The McLaughlins have lost their LIHEAP funding. "We were told that we were 'over income'" said Cindy. "Our income did not change from last year and last year we qualified. We were informed that they lowered the guidelines."
That's despite the fact that Bill hasn't worked in six years, since a series of ailments forced him to stop working at his job in concert lighting and sound. A year ago, he was diagnosed with small cell cancer. Chemotherapy has weakened his immune system and his wife is afraid he could catch pneumonia in the cold house this winter.
Congressman Michaud, has posted many other stories of the hardships faced by Maine residents who have lost LIHEAP funding on his Facebook page.
One woman wrote that her 85-year-old mom and 86-year-old dad, a World War II Marine veteran, were told they would not be getting any assistance this year even though they desperately need it.
Another, a hospice social worker, said she was appalled as a patient shivered through the last few days of her life because LIHEAP could only cover a small portion of her heating expenses.
Less reliance on oil: One bright spot is that the rising price of oil affects far fewer households than it did in the past.
Most homeowners have already transitioned to natural gas, with less than 10% of all households still burning oil. That percentage is expected to drop even further as the cheaper fuel option becomes available in more towns, said Gamson.
For those who heat their homes with gas, prices are projected to be stable over the next few years. There's a glut of natural gas available and more is coming on line as new sources, like the Marcellus Shale in Pennsylvania and New York, open up for development.
The EIA projected gas prices will be just 2.2% higher during this winter season and nearly 18% lower than two years ago. The average homeowner will pay only about $732 to heat their home with gas this season.
But those kinds of energy bills are a pipedream for people like the Bill McLaughlin. "I don't want anything extra," he said. "I just want to be able to go to bed at night with the temperature set at 60 degrees."
For information on how to apply for LIHEAP, go to the HHS pages at http://www.acf.hhs.gov/programs/ocs/liheap/brochure/brochure.html.