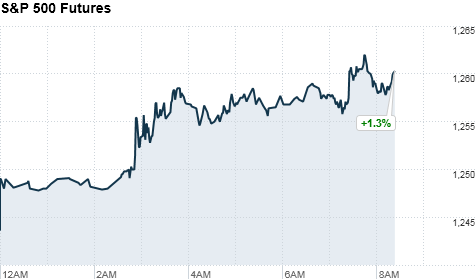 Click chart for premarket data.
NEW YORK (CNNMoney) -- U.S. stocks were set for big gains Friday, after the government's closely-watched jobs report showed a bigger-than-expected boost in payrolls last month.
The Dow Jones industrial average (INDU), S&P 500 (SPX) and Nasdaq (COMP) futures were 1% higher ahead of the opening bell. Stock futures indicate the possible direction of the markets when they open at 9:30 a.m. ET.
The U.S. government said employers boosted payrolls by 120,000 jobs in November, from an upwardly revised 100,000 jobs in October. The unemployment rate eased to 8.6%, the lowest level since March 2009.
A CNNMoney survey of 21 economists had predicted that 110,000 jobs were added in November, while the unemployment rate was expected to stay unchanged at 9%.
The government jobs report will be followed by a Treasury Department briefing about the numbers at 11 a.m. ET.
"We're slowly starting to see improvement in U.S. economic numbers, and if that data comes in better than expected -- markets could really take it positively, and see it as finally drawing a line under unemployment," said Manoj Ladwa, a senior trader at ETX Capital.
Meanwhile, in a speech to the German parliament Friday, Merkel reaffirmed her support for the euro and called for changes to the European Union treaty. She stated that legally-binding rules need to be put in place to help the region resolve its massive debt crisis.
"This is a positive, because the EU does need to address its original treaty and amend it pretty soon," Ladwa said. "[Merkel] is pushing forward for more integration for the eurozone, which would safeguard the region and hold back on the worse case scenario of the eurozone breaking up."
Ladwa said that the sharp move lower in 10-year sovereign bond yields on Friday could also indicate that the risk of contagion is diminishing, thanks to the plan among a group of central banks -- including the Federal Reserve and the European Central Bank -- to inject liquidity into global markets to make it cheaper for banks to borrow U.S. dollars.
"The feel good effect from the central banks' plan for liquidity stimulation is still there," Ladwa said. "The pressure seems to be coming off some of the [eurozone] nations, so somewhere like Italy might not have to go down the route of seeking more money from the EU."
U.S. stocks ended mixed Thursday, after a big rally on Wednesday, as investors were reluctant to push prices higher amid ongoing worries about Europe.

World markets: European stocks climbed in morning trading. Britain's FTSE 100 (UKX) jumped 1.6%, the DAX (DAX) in Germany rose 2% and France's CAC 40 (CAC40) rallied 1.9%.
Asian markets ended mixed. The Shanghai Composite (SHCOMP) slid 1.1%, while the Hang Seng (HSI) in Hong Kong edged up 0.2% and Japan's Nikkei (N225) rose 0.5%.
Companies: Shares of Research in Motion (RIM) slid nearly 5% in premarket trading Friday, after the company said it no longer expects to meet its full-year earnings target.
Shares of Big Lots (BIG, Fortune 500) slid nearly 6% in premarket trading, after the retailer posted a sharp decline in third-quarter profit.
Currencies and commodities: The dollar slumped against the euro, but gained versus the British pound and the Japanese yen.
Oil for January delivery slipped ticked up 55 cents to $100.75 a barrel.
Gold futures for December delivery gained $15.20 to $1,750.50 an ounce.
Bonds: The price on the benchmark 10-year U.S. Treasury fell, pushing the yield up to 2.13% from 2.07% late Thursday.