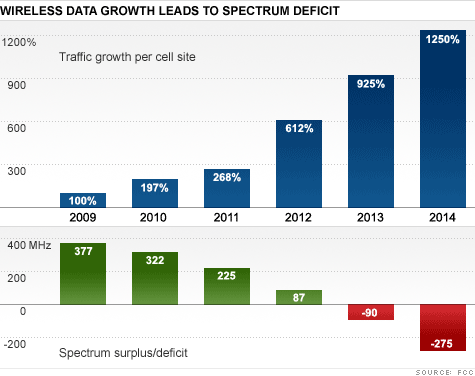 NEW YORK (CNNMoney) -- In the era of the smartphone and tablet boom, the hottest wireless commodities are airwaves.
Verizon (VZ, Fortune 500) Wireless said Friday that it bought wireless spectrum licenses covering 259 million Americans for a whopping $3.6 billion from a consortium of cable companies, including Comcast (CMCSA, Fortune 500), Time Warner Cable (TWC, Fortune 500) and Bright House Networks.
More spectrum means more bandwidth for telecommunications companies to provide voice and Internet service to their customers' mobile devices. As smartphones and tablet sales have soared over the past several years, consumers' demand for data has grown exponentially.
"Spectrum is the raw material on which wireless networks are built, and buying the spectrum now solidifies our network leadership into the future, and will enable us to bring even better 4G LTE products and services to our customers," Dan Mead, CEO of Verizon Wireless, said in a prepared statement.
But spectrum is becoming a scarce asset, as carriers are simply running out of airwaves to cram data into. The Federal Communications Commission has said that a current wireless spectrum surplus of 225 MHz will become a deficit of 275 MHz by 2014 (see chart above).
That's why the FCC has committed to freeing up 500 Megahertz of spectrum over the next decade. But there's a catch: That process includes voluntary auctions by a patchwork of television stations across the country that currently hold but aren't using their spectrum. Many aren't willing to give up their valuable spectrum holdings.
As that gets sorted out, carriers aren't just sitting on their hands. AT&T (T, Fortune 500) is seeking to buy T-Mobile primarily for its spectrum holdings, Sprint (S, Fortune 500) has inked deals with 4G wholesale providers Clearwire (CLWR) and LightSquared, and now Verizon has purchased a big allotment of cable providers' unused spectrum.
Beyond the cash infusion, the deal makes long-term sense for the cable companies. As part of the deal, Comcast, Time Warner Cable and Bright House can become wholesale providers using Verizon's network. That means they can bundle wireless service with their "triple play" cable, Internet and land-line phone options.
"These agreements, together with our Wi-Fi plans, enable us to execute a comprehensive, long-term wireless strategy," said Neil Smit, Comcast's president of cable operations, in a statement.
Wireless is a high-capital, low-margin business, given the great expenses that go into maintaining and operating a network. Since Verizon is already doing that, it made sense for the companies to sell their spectrum licenses to Verizon in exchange for the option to wholesale the service down the road.
"With this deal, the cable industry tacitly acknowledges that they cannot do wireless on their own," said David Joyce, analyst at Miller & Tabak. He noted that the move follows the lead of rival cable provider Cox, which exited its short-lived wireless initiative last month.
It's also a sign that none of the companies are interested in buying T-Mobile.
As the AT&T bid to buy the fourth-largest nationwide carrier appears to be hanging on by a thread, some analysts had speculated that a cable provider like Comcast or Time Warner Cable might be interested in stepping in as a white knight.
By selling off their spectrum, the cable providers are sending a signal that they're interested in wireless but not interested in the costs that go into operating a network like T-Mobile's.
According to the terms of the deal, Comcast, which owns 63.6% of the joint venture, will receive approximately $2.3 billion from the sale. Time Warner Cable will take home $1.1 billion, and Bright House Networks will get $189 million.