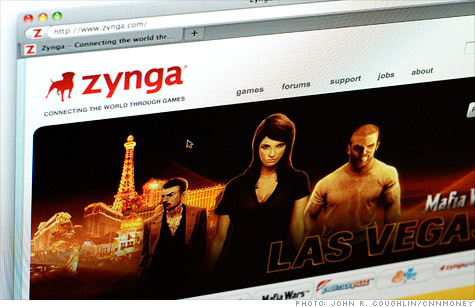 Zynga is about to debut in a tough market for tech IPOs.
NEW YORK (CNNMoney) -- Zynga is poised to fling itself into a public market that has recently turned cold toward its peers: a crop of Web companies with lots of buzz but fledgling business models.
Zynga, the creator of the -Ville social gaming franchise, filed in July for its IPO, but updated paperwork on Friday indicated that its offering is imminent. Zynga is looking to price its shares between $8.50 and $10 each. Pricing at the top of that range would give Zynga a valuation of around $7 billion.
But here's a sign of the chill hitting tech stocks: Even $10 a share is significantly below the $17.20 per share valuation Zynga used for a recent round of stock grants. As of August 2011, Zynga's outside consultants estimated the company's worth at $14 billion.
Zynga plans to directly sell 100 million shares in its IPO, raising up to $1 billion.
This year's batch of tech IPOs have recently hit market turbulence. Shares of daily deals site Groupon (GRPN) plunged below their IPO price last week. They clawed back some gains during this week's market rally, but remained essentially level with their $20 IPO price.
Pandora (P) lost 35% in November, while Zillow (Z) and LinkedIn (LNKD) fell about 25% in the same period. The last big Internet name to go public, Angie's List (ANGI), gained 25% when it began trading November 17 -- and went on to lose 28% overall for November.
Zynga's profitable: A bright spot for Zynga, though, is that its financials are stronger than many of its newly public counterparts.
In 2010, the company had a $90.6 million profit on sales of $597 million. For the first nine months of 2011, it netted $30.7 million in profit on almost $829 million in sales.
Zynga gets revenue from its users paying real money for virtual goods, like tractors and animals for their online farms. Zynga noted in its filing that it relies on this "small portion of our total players for nearly all of our revenue," but it didn't break that figure out separately. The company did reveal that users create and store more than 30,000 virtual goods every second.
Zynga's other revenue stream is unique advertising, such as Starbucks (SBUX, Fortune 500) paying to have a virtual coffee shop in CityVille. Users might have to visit that virtual store 10 times in order to build a Starbucks franchise in their own virtual cities.
But the casual gaming space is heating up, and Zynga faces competition from big names including Electronic Arts (ERTS) and Disney-owned (DIS, Fortune 500) Playdom. It's feeling the crunch: Zynga's number of its daily active users declined 10%, to 54 million, in the five months since the company first filed its IPO paperwork.
The Facebook effect: Zynga called Facebook its "primary distribution, marketing, promotion and payment platform," noting that any change in terms could harm business.
Zynga learned that the hard way. In its early days, the company resorted to spammy and scammy tactics to gain new -Ville gamers and monetize existing ones.
Facebook users became so frustrated with Zynga notifications clogging up members' newsfeeds and dashboards that Facebook decided to expressly prohibit the practice in early 2010.
Zynga straightened up after the crackdown, and it has a contract with Facebook in place through 2015 governing its service terms. The deal requires Zynga to use Facebook's own currency, Facebook Credits, as its primary payment system. Facebook keeps 30% of the revenue from those payments, and passes the remaining 70% on to Zynga.
Who's selling shares: Some of Zynga's creators have already cashed in on the company's success. CEO and founder Mark Pincus, who currently owns 16% of the company, collected almost $110 million in March from selling part of his stake back to Zynga.
Neither Pincus nor any other Zynga executives are selling shares in the IPO. Five equity firms are selling between 2.2 million and 2.5 million shares each: KPCB Holdings, Institutional Venture Partners, Union Square Ventures, Foundry Venture Capital and Avalon Ventures.
Early investor Google (GOOG, Fortune 500) will be offering almost 1.7 million shares, as will equity firm Silver Lake Partners. A handful of other investors are each selling a few hundred thousand shares.