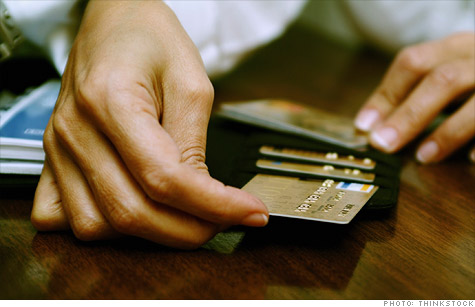 Credit cards are 'back in favor' among consumers, as banks bombard consumers with enticing offers and incentives aimed at getting them to use credit over debit.
NEW YORK (CNNMoney) -- Credit cards are making a comeback.
At the end of 2008, more consumers were using debit cards than credit cards but now that trend has reversed, said Silvio Tavares, senior vice president at First Data, which processes card transactions for 4.1 million merchant locations.
"Credit is back in favor," he said. "Consumers have spent the last couple of years de-leveraging and reducing credit card use, but during the past month -- and since April [of this year] -- they've been using their credit cards more and are starting to return to pre-recession buying habits."
Purchases made with credit cards rose 8.2% in the first quarter of 2011, 9% in the second quarter and 10.6% in the third quarter, according to First Data. That compares with gains in debit card use of 9.6%, 8.3% and 5.9% for the same quarters.
And a growing number of holiday shoppers are already opting for credit this year. Payments made with credit cards on Black Friday jumped 7.4% from the same day a year earlier, while debit card use only rose 3.4%.
It's hard for some consumers to resist. Banks have been ramping up solicitations and boosting incentives for credit cards over the past year in an effort to get them to choose credit over debit.
Credit card mailings have surged 85% since the beginning of 2010 to 1.3 billion credit card offers in the third quarter of 2011, according to analysis conducted by research firm Mintel Compermedia.
Many of these offers come loaded with new perks. Several major issuers have eliminated charges like foreign transaction fees and balance transfer fees, and many are offering heftier rewards.
While debit card rewards programs have been getting the axe at banks like Wells Fargo (WFC, Fortune 500) and Chase (JPM, Fortune 500), card issuers have been ramping up rewards on credit cards. Eight out of ten credit card offers this year have been for cards with rewards points, miles or cash rebates -- up from six in ten offers two years ago, Mintel found.
It's a trend that is only likely to intensify as it becomes less cost-effective for banks to offer debit cards. After all, while the fee they charge retailers was recently capped at 21 cents per transaction for debit cards, card issuers get approximately 2% of a transaction for credit cards.
And, of course, credit cards bring banks the added bonus of interest payments when consumers don't pay off their balances each month.
"Banks want you to reach into your wallet or purse for a credit card to make the payment since it means more profit to the bank," said Bill Hardekopf, CEO of credit comparison site LowCards.com.
Raising checking account fees over the past year and recently attempting to add debit card usage fees are some of the other ways banks have been trying to convince customers to make the switch, he said.
The push seems to be proving successful. Javelin Strategy & Research recently projected that online credit card use will surge 63% from 2011 to 2016, compared to a 2% increase in debit card use. Data on the projected increase in overall payment use -- not just online -- will be released later this month.
But if you're one of the many people making the switch, be careful.
"If you switch to credit cards for payments, pay off your balance in its entirety each month," Hardekopf said. "Otherwise, the interest payments could become overwhelming and are sure to be greater than any new debit card fee."