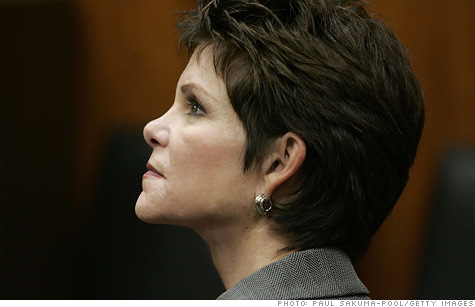 NEW YORK (CNNMoney) -- Patricia Dunn, the embattled former chairwoman of Hewlett-Packard's board, has died. She was 58.
Dunn became embroiled in scandal in the summer of 2005, after it was revealed that she spearheaded two secret investigations of members of HP's board. Seeking to find the source of leaks to news organizations about the board's internal conversations, Dunn hired five hired investigators who spied on fellow directors and journalists by illegally obtaining their personal phone records using false identities.
It's a practice called "pretexting," and it blew up into a scandal after a member of Dunn's board, venture capitalist Tom Perkins, quit and revealed details of the probes to federal agents.
After a lengthy investigation, Dunn resigned from the board in September 2006. A month later, she and the five investigators were indicted on four felony counts -- including wire fraud, stealing computer data and using personal ID information without permission -- by the California attorney general.
The charges against Dunn were all dropped in March 2007. The court dismissed Dunn's charge because of her cancer battle, "not because she's innocent but because she is sick," the attorney general's office told CNN at the time.
Dunn had struggled with her health for more than a decade. She was diagnosed with breast cancer in 2001, melanoma in 2002, ovarian cancer in 2004, and a recurrence, in the liver, in 2006.
The other five defendants in the case pleaded guilty in exchange for a reduction of their charges to misdemeanors. HP later admitted that its investigators had used illicit tactics to spy on the board and members of the media.
Dunn insisted throughout that was innocent: "There's no doubt in my mind I've been defamed," she told Fortune in 2007. "I didn't run the investigation. As non-executive chairman I had no executive authority."
She added: "In my case the media seemed to have an almost willfully ignorant belief that I was the boss, that I had my hands on the levers of the company. In fact, no one at HP reported to me. I had no staff, no budget, no signing authority, and no office at the company."
A company spokesman said HP (HPQ, Fortune 500) remembers her fondly.
"Pattie Dunn worked tirelessly for the good of HP," he said on Monday. "We are saddened by the news of her passing, and our thoughts go out to her family on their loss."
Prior to her tenure at HP, Dunn had a sterling reputation and was often cited as an embodiment of the American Dream. She began as a secretary at Wells Fargo (WFC, Fortune 500) and went on to become the CEO of Barclays Global Investors. Dunn led the ousting of HP's unpopular CEO Carly Fiorina in 2005, bringing in the far more successful Mark Hurd to replace her.
Hurd ultimately replaced Dunn, though his tenure also ended in scandal in 2010. HP's board is now chaired by Ray Lane.