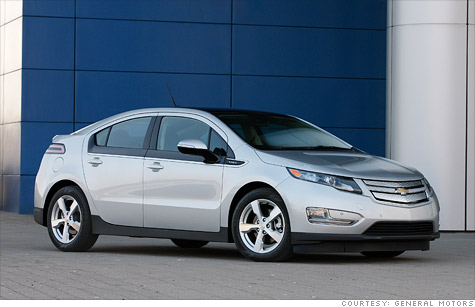 GM's offer to buy back the Chevy Volt has gotten about 24 takers.
NEW YORK (CNNMoney) -- About two dozen people have asked General Motors about turning in their Chevrolet Volt electric cars in the wake of an investigation into possible battery fires following severe crashes, a spokesman for the automaker said Tuesday.
So far, GM (GM, Fortune 500) has sold about 6,500 of the "range extended" plug-in cars. The cars are powered by large lithium-ion batteries, but also have gasoline engines, allowing them to be driven long distances without necessarily having to recharge.
GM earlier offered to lend cars to Volt owners concerned about safety. About 33 people accepted that offer, GM said. GM Chief Executive Dan Akerson later said GM would go so far as to buy back cars from customers who were deeply concerned.
So far, "a couple dozen" people have inquired about turning in their cars, GM spokesman Greg Martin said.
There is no set formula for how much GM will pay customers who wish to sell back their cars, Martin said. There would be an individual negotiation in each case, he said.
"Our first option and desire is to keep them in the car," Martin said.
Volt buyers are able to claim a $7,500 federal tax credit for purchasing an electric car. Anyone who sold back the car would need to consult a tax adviser about how to handle the tax credit, Martin said.
The safety investigation, being run by the National Highway Traffic Safety Administration, was started after a Chevrolet Volt caught fire three weeks after a crash test.
GM is cooperating in the investigation. Akerson has said the automaker would redesign the car's battery pack if the investigation found a problem.
About 50 members of a Chevrolet Volt owners' Facebook group recently released a public letter attesting to their confidence in the car's safety.
"We are keeping the keys to our Volts," the letter said. "We love our Volts and we feel safe driving our Volts."
The Volt recently topped a Consumer Reports owner satisfaction survey.