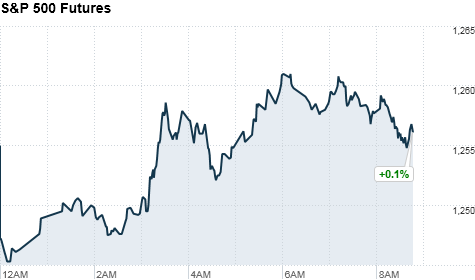 Click on the chart for more market data.
NEW YORK (CNNMoney) -- U.S. stock futures hovered around breakeven Tuesday morning, as investors remain cautious after S&P issued a eurozone warning.
The Dow Jones industrial average (INDU), S&P 500 (SPX) and Nasdaq (COMP) futures edged higher ahead of the opening bell. Stock futures indicate the possible direction of the markets when they open at 9:30 a.m. ET.
U.S. stocks rose Monday but finished below their highest levels of the day, following reports that Standard and Poor's may put eurozone nations on watch for a possible downgrade.
S&P turned rumors to reality after Monday's closing bell, placing 15 out of 17 eurozone members on "creditwatch negative" -- meaning that the countries have a 50% chance of being downgraded within 90 days.
"The impact of the [S&P] move though, comes from its timing - just when M Sarkozy and Frau Merkel were trying to conjure up yet another rabbit from their hat to save the euro," said Societe General analyst Sebastien Galy in a note to investors.
Earlier in the day, stocks rallied on optimistic that a solution to Europe's debt problems was on the near horizon after the leaders of France and Germany agreed on a new fiscal pact, that they say will prevent another debt crisis.
As the European debt crisis continues to cloud global markets, the region's leaders are meeting throughout the week, which culminates with a two-day European Council summit to talk about rewriting European Union treaties.
World markets: European stocks were slightly lower in morning trading. Britain's FTSE 100 (UKX) edged lower to 0.1%, the DAX (DAX) in Germany lost 0.9% and France's CAC 40 (CAC40) shed 0.2%.
On Tuesday, Eurostat of the EU commission estimated the GDP increased by 0.2% in the eurozone for the third quarter.
Asian markets ended lower. The Shanghai Composite (SHCOMP) slipped 0.3%, the Hang Seng (HSI) in Hong Kong lost 1.2% and Japan's Nikkei (N225) dropped 1.4%.
Companies: Shares of Darden Restaurants (DRI, Fortune 500) fell more than 8% in premarket trading after the company, which operates Red Lobster, Olive Garden and Longhorn Steakhouse chains, issued a dour outlook for the quarter and fiscal year.
Shares of SuccessFactors Inc. (SFSF) surged Monday, after German software maker SAP (SAP) agreed to buy the company for $3.4 billion in cash. Shares of Taleo (TLEO), SuccessFactors' rival, also spiked.
Shares of Taiwanese phone maker HTC were sharply lower ahead of a ruling on a key Apple patent suit. On Tuesday, a six-member panel at the International Trade Commission in Washington will rule on whether HTC's phones have violated two Apple (AAPL, Fortune 500) patents.
Currencies and commodities: The dollar gained strength against the British pound, but fell slightly versus the Japanese yen and the euro.
Oil for December delivery slipped 6 cents to $100.93 a barrel.
Gold futures for December delivery fell $11.10 to $1,723.50 an ounce.
Bonds: The price on the benchmark 10-year U.S. Treasury was little changed, with the yield up holding steady at 2.05% late Monday.