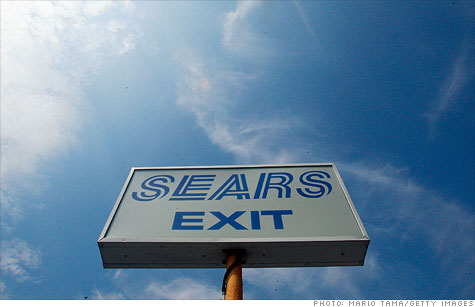 Sears and CME threaten to leave Illinois over taxes
NEW YORK (CNNMoney) -- Without a fresh round of tax incentives, two iconic Illinois companies might soon be on the move.
The companies -- Sears Holdings and CME Group -- are the latest in a series of Illinois firms to threaten departure after the state temporarily raised corporate taxes earlier this year.
Sears Holdings (SHLD, Fortune 500), which has 6,100 employees at its corporate headquarters and operates both K-Mart and Sears stores, is looking for its current package of tax incentives to be extended.
If it doesn't get the roughly $15 million a year in incentives, the company said on its corporate website that Sears "must be prepared to move all or part of its operations."
CME Group (CME), which operates the Chicago Mercantile Exchange, wants to pay fewer taxes on out-of-state electronic trades.
Even with state finances in dismal shape, the threat has sparked a mad rush by lawmakers to keep the companies happy.
The Illinois Senate passed a bill that would allow Sears to keep its "Economic Development Area" in the Village of Hoffman Estates, an area carved out for the company decades ago. The bill would also sharply reduce the number of electronic trades that CME pays Illinois taxes on.
But the bill failed last week in the state's lower chamber, garnering only eight votes. It's not clear when lawmakers will return to the issue.
After the bill failed, a Sears spokesman said the company sent its workers a notice that said: "We are disappointed that the legislature was not able to ... pass a package that will help us remain an Illinois company."
The stakes are high. Earlier this year, Caterpillar (CAT, Fortune 500) threatened to leave Illinois, an announcement that sparked something of a relocation competition among neighboring states.
"I have been called, 'cornered' in meetings and 'wined and dined' -- the heat is on," Caterpillar CEO Douglas Oberhelman said at the time.
The same phenomenon is happening this time around, with Sears and CME on the receiving end of propositions from aggressive neighbors.
Sears said on its website that it has "received proposals from a number of states" and has conducted a pair of site visits.
And the Indiana Economic Development Corporation has held talks with CME.
Already this year, 16 companies moved all or a portion of their operations from Illinois to Indiana, which the IEDC estimates brought the state 1,500 new jobs and more than $305.1 million in investment.
Part of the challenge facing Illinois is that the state can't afford to chop its revenue with big tax breaks. In fact, Illinois is moving in the opposite direction.
Faced with a daunting $13 billion budget deficit earlier this year, state legislators opted to raise personal and corporate income taxes.
Companies now have to pay a 7% corporate tax rate for the next four years, up from the previous 4.8%. And Illinois businesses are already subject to a 2.5% surcharge.
Along with the corporate tax hike, lawmakers raised the personal income tax rate to 5%, up from 3%.
"The state continues to spend more than it takes in," said Laurence Msall, president of the non-partisan Civic Federation. "They've dug a hole so big that even an enormous tax increase hasn't balanced the budget."
The Prairie State is in the midst of correcting years of overspending that has left the state in deep financial trouble. Pensions costs are a big problem, and the state has relied on debt issuance to plug budget holes.
Illinois' actions have not sat well with rating agencies, which have downgraded the state's credit rating, making it more expensive and more difficult for the state to raise money in the debt markets.