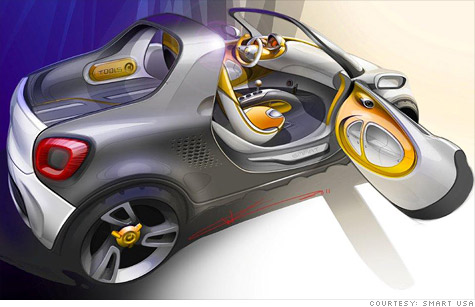 Daimler's Smart division will unveil a pickup version of the brand's tiny car at the Detroit Auto Show in January.
NEW YORK (CNNMoney) -- Smart, the Daimler division that produces the super-tiny Smart ForTwo minicar, will unveil a pickup truck version at the Detroit Auto Show in January.
It will, of course, be a super-tiny truck. At under 140 inches long, the Smart For-us concept vehicle is about six feet shorter than a Ford (F, Fortune 500) F-150 pickup -- the best-selling passenger vehicle in America.
Currently, the Smart brand is a one-car line-up. Smart executives have said they plan to expand that in the near future. Still, the automaker has not announced any specific product plans.
"In a tongue-in-cheek manner, the For-us signals that this is the right car for the young-at-heart with active lives who attach importance to low emissions and taking up minimum road space," Smart said in its announcement.
For now Daimler is only providing drawings of the vehicle.
The concept truck is driven with a 55 kilowatt -- or 73 horsepower -- electric motor. The bed is designed to be large enough to hold two bicycles with the tailgate down.
It is based on the Smart ForTwo Electric Drive but, besides having a bed, it also is slightly wider than the production car.
"We at Smart love pickups," chief executive Annette Winkler of the Daimler (DDAIF) division said in an announcement., "if they are small on the outside, large on the inside, safe and very comfortable."
Mercedes Benz took over importing and selling Smart cars this year. The cars had previously been sold by the Penske Automotive Group.
Sales of the Smart have doubled under Mercedes but the sales figures remain about as small as the cars themselves. In November, Mercedes dealers sold 414 Smarts compared to 211 in November, 2010.