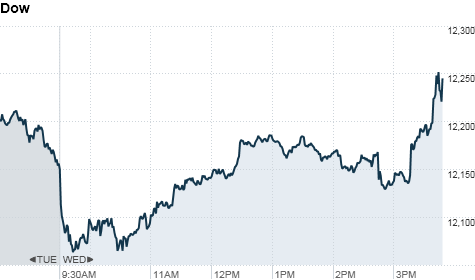 Click the chart for more market data.
NEW YORK (CNNMoney) -- U.S. stocks ended mostly higher Wednesday as investors bet that European leaders will produce a meaningful solution to the debt crisis at a highly anticipated summit this week.
The Dow Jones industrial average (INDU) rose 46 points, or 0.3%, to end at 12,196. The S&P 500 (SPX) gained 2 points, or 0.2%, to 1,261. The Nasdaq (COMP) declined less than 1 point to 2,649.
European Union leaders will meet Thursday and Friday in Brussels to discuss closer political and economic coordination, as well as other measures to restore market confidence and stabilize the euro currency.
Stocks rallied last week on signs that EU officials are prepared to make fundamental reforms to resolve the debt crisis. But trading has been choppy this week amid a flurry of rumors about what the politicians may or may not announce after the summit.
"Expectations are still high, and probably reasonable," said Paul Zemsky, head of multi asset strategies at ING Investment Management. "Certainly Germany and France understand the magnitude of the situation, and the ECB is on board with a rate cut expected tomorrow."
On Thursday, the European Central Bank is widely expected to cut interest rates by up to 0.5% as the risk of a broad recession in Europe continues to rise.
U.S. Treasury Secretary Tim Geithner is in Europe this week to meet with top government officials, highlighting the growing concern in Washington about the eurozone debt crisis.
After meeting with his French counterpart, Geithner sounded confident about European leaders' ability to enact fiscal reforms and boost economic growth.
Meanwhile, investors were unfazed by news that Standard & Poor's has placed the EU's long-term credit rating on review for a possible downgrade. The agency also warned that several European banks are on "creditwatch," meaning there's an increased chance of a downgrade.
S&P said Monday that 15 of the 17 eurozone nations that weren't already under scrutiny are now being reviewed, including AAA-rated Germany and France.
Stocks closed mostly higher Tuesday after a report said EU officials were considering a plan to combine the resources of an existing bailout fund with one that comes on line next year. But those hopes were damped Wednesday after an unnamed German official flatly denied the report.
"There have been great expectations built up ahead of these meetings before, only to be disappointed," said David Jones, chief market strategist at IG Markets in London. "There's a little bit of caution creeping back into the market because we don't know what's going to happen Friday."
World markets: European stocks fell, but closed off the lowest levels of the day. Britain's FTSE 100 (UKX) fell 0.4%, the DAX (DAX) in Germany lost 0.6% and France's CAC 40 (CAC40) ended little changed.
Asian markets ended higher. The Shanghai Composite (SHCOMP) edged up 0.3%, the Hang Seng (HSI) in Hong Kong added 1.6% and Japan's Nikkei (N225) jumped 1.7%.
Economy: U.S. consumer credit rose by $7.7 billion in October, or 3.7% an annual rate, the Federal Reserve said.
Companies: Shares of Citigroup (C, Fortune 500) fell after CEO Vikram Pandit said late Tuesday that the banking giant would lay off roughly 4,500 employees over the next few months.
Shares of retailer Talbots (TLB) skyrocketed 60% after it said it had received a bid from buyout firm Sycamore Partners.
Early Wednesday, retailer J.C. Penney (JCP, Fortune 500) announced it would buy a stake in home decor expert Martha Stewart's franchise, Martha Stewart Living Omnimedia (MSO). The retail giant said it would invest $38.5 million. Shares of Martha Stewart Living rose 33% in early trading.
Shares of Monsanto (MON, Fortune 500) fell after the agriculture company raised its fiscal first- quarter earnings-per-share guidance.
Currencies and commodities: The dollar fell versus the euro, British pound and the Japanese yen.
Oil for January delivery fell 79 cents to $100.49 a barrel.
Gold futures for February delivery rose $13 to $1,744.80 an ounce.
Bonds: The price on the benchmark 10-year U.S. Treasury held rose, with the yield easing to 2.06%.