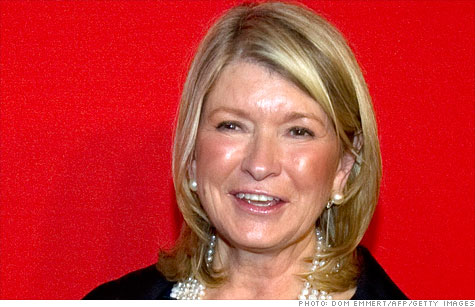 J.C. Penney teams up with Marth Stewart to open mini-shops within its locations.
NEW YORK (CNNMoney) -- J.C. Penney and Martha Stewart Living Omnimedia announced Wednesday they've entered a 10-year retail partnership featuring Martha Stewart products, know-how and advice.
J.C. Penney paid $38.5 million for a 16.6% stake in the company and a seat on the board of directors. Shares of Martha Stewart Living (MSO) jumped 33% on the news.
As a part of the investment, J.C. Penney (JCP, Fortune 500) will open Martha Stewart mini-stores inside the majority of its locations starting in February 2013. The venture will also launch a joint website.
The mini-stores and website will offer customers a wide range of Martha Stewart home and lifestyle products, the companies said.
Martha Stewart, in a statement, called the deal a step in "realizing my dream of putting our Martha Stewart designed products within easy reach of an even broader consumer audience."
J.C. Penney CEO Ron Johnson joined the company earlier this year came from Apple Inc., where he developed and led Apple's global retail strategy including its Genius Bar and One-on-One Training. Prior to his work at Apple, he revamped Target (TGT, Fortune 500) and led its efforts to partner with big-name designers and brands.
But the deal could cost Martha Stewart Living its three-year-long partnership with Macy's (M, Fortune 500).
"Macy's is reviewing the Martha Stewart products sold at Macy's for potential changes in the future," Macy's said in a statement. "No decisions have been made at this time."
Martha Stewart Living is expected to make over $200 million in royalties and licensing fees over 10 years because of the J.C. Penney deal.
Martha Stewart was reinstated to Martha Stewart Living's board of directors earlier this year. She had been banned from serving on the board of a public company for five years following her 2004 conviction for lying to investigators about a stock sale.